Gypsy Jazz Guitars: European and North American
These are the CASH prices...add 3% (4% for International orders) if you'd like to pay with a credit card. Card Fee is Non-Refundable. All guitars have a 48 approval period. If you are not satisfied with your purchase you may return it for a full ref
Gypsy Jazz Guitars: European and North American
Gypsy Jazz Guitars: European and North American
These are the CASH prices...add 3% (4% for International orders) if you'd like to pay with a credit card. Card Fee is Non-Refundable. All guitars have a 48 approval period. If you are not satisfied with your purchase you may return it for a full refund less shipping and credit card fees (3% for domestic, 4% international plus an additional 1% for American Express.)
If you're looking for a rare, hard to find Gypsy guitar then we suggest you follow us on Twitter. Any new "gems" will be mentioned there first.
I accept consignments for a 20% fee. DjangoBooks is THE most visited Gypsy jazz guitar site and my large, worldwide customer base will insure that your guitar sells quickly and for the best possible price.
Flagship model from Germany's master builder!
$15,500.00
$13,000.00
(Save 16%)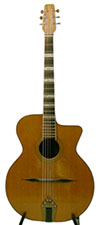 Small bodied gem from Favino's Golden Period!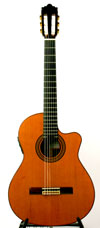 Rare electro-acoustic classical model built to the specs of Marcel Dadi!
$2,500.00
$1,500.00
(Save 40%)
Software: Kryptronic eCommerce, Copyright 1999-2020 Kryptronic, Inc. Exec Time: 1.470893 Seconds Memory Usage: 4.417091 Megabytes