From the DjangoBooks Blog...
1950s Joseph Di Mauro Heart Hole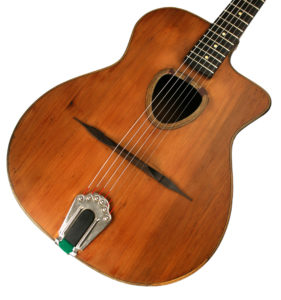 The rare Heart Hole model from the elder Joseph Di Mauro. Renowned for its exquisite tone and thunderous projection!
Posted by Michael Horowitz in "News" on 06/04/2019 at 03:10 PM.
Featured Video
Guitar Audio Demos
Recent Forum Posts
Nuages Stochelo's solo version
Thread created by Jojo on 06/15/2019 at 08:57 AM.
"think different"
Thread created by surdopickups on 06/15/2019 at 08:41 AM.
Fatigue in the Second Set
Thread created by Chiefbigeasy on 06/13/2019 at 09:04 PM.
Cre Me a River Chords
Thread created by djb11 on 06/09/2019 at 11:42 AM.
2007 Dupont mdc-100 14-fret D hole for sale 00 + shipping
Thread created by colorado_hick on 06/12/2019 at 02:21 PM.
Best All-Around Studio Amp?
Thread created by Gandy on 06/10/2019 at 02:49 AM.
DIJ Monday arrivals - carpool from Hartford
Thread created by Wim Glenn on 06/09/2019 at 02:02 PM.
Need a ride to Django in June????
Thread created by ace on 05/11/2008 at 04:11 AM.
Gypsy Jazz Events