From the DjangoBooks Blog...
1950s Joseph Di Mauro Heart Hole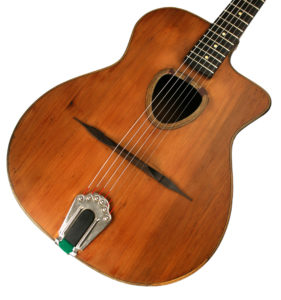 The rare Heart Hole model from the elder Joseph Di Mauro. Renowned for its exquisite tone and thunderous projection!
The post 1950s Joseph Di Mauro Heart Hole appeared first on Blog.
Posted by Michael Horowitz in "News" on 06/04/2019 at 03:10 PM.
Featured Video
Guitar Audio Demos
Recent Forum Posts
Gypsy Jazzers in Portland Oregon?
Thread created by aRealGypsy on 06/09/2008 at 12:38 AM.
Selmer Guitar Pin
Thread created by Melvin Koenings on 06/19/2019 at 10:58 AM.
News about Jimmy Rosenberg
Thread created by SanderV on 02/10/2019 at 02:11 PM.
Peche a la mouche pickup with detachable cable
Thread created by Wim Glenn on 11/29/2015 at 01:50 PM.
Concert Django at the Normandie Oct 1940
Thread created by PapsPier on 06/19/2019 at 04:33 AM.
Something that should be shared and mentioned
Thread created by Buco on 06/18/2019 at 08:34 AM.
Gibson L-48 for sale at DIJ
Thread created by MattHenry on 06/09/2019 at 09:07 AM.
BYO: Maccaferri Concert Model
Thread created by DarrenKingUK on 05/17/2019 at 02:35 AM.
Gypsy Jazz Events