From the DjangoBooks Blog...
Party Like it's 1939!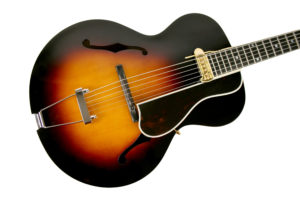 A customer in Australia asked us to trick out this Loar LH-700 with period correct DeArmond 1100 Rhythm Chief Pickup (with thumbwheel volume control) and pickguard. Check out our guitar customization options for archtops and Gypsy guitars. We can make your dreams come true!
Posted by Michael Horowitz in "Guitars" on 10/03/2019 at 05:20 PM.
Featured Video
Guitar Audio Demos
Recent Forum Posts
"The world is waiting for the sunrise"
Thread created by Romain Vuillemin on 09/13/2019 at 02:49 AM.
Party Like it's 1939!
Thread created by DjangoBooks on 10/03/2019 at 06:03 PM.
The London Django Collective feat Giacomo Smith, vid of a new band creating gypsy jazz in London!
Thread created by MattHolborn on 09/10/2019 at 04:26 AM.
Frets
Thread created by schan on 10/15/2019 at 06:57 PM.
?47 Epiphone Spartan for sale
Thread created by MarkA on 05/20/2019 at 06:45 PM.
gypsy jazz quintet
Thread created by padma on 10/15/2019 at 01:20 PM.
Vintage correct fingerboard radius
Thread created by criminel on 10/10/2019 at 09:40 AM.
Tasmanian Gypsy Jazz Quartet - Vinyl Album Of Original Compositions (200 copies only: Preorder live)
Thread created by harrye on 09/09/2019 at 04:20 PM.
Gypsy Jazz Events