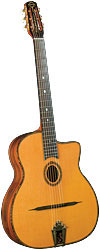 Gypsy Jazz Guitars: Asian Made
Affordable Selmer Maccaferri style Gypsy jazz style guitars made in Asia!All guitars have a 48 approval period. If you are not satisfied with your purchase you may return it for a full refund less shipping and credit card fees (3% for domestic, 4
Gypsy Jazz Guitars: Asian Made
Gypsy Jazz Guitars: Asian Made
Affordable Selmer Maccaferri style Gypsy jazz style guitars made in Asia!
All guitars have a 48 approval period. If you are not satisfied with your purchase you may return it for a full refund less shipping and credit card fees (3% for domestic, 4% international plus an additional 1% for American Express.)
All setup work performed by our amazing tech
John Saba
.
Denotes items that always ship for free. No shipping charges are calculated for Free Shipping items. Free shipping only applies to domestic orders. International orders are subject to shipping fees.
Software: Kryptronic eCommerce, Copyright 1999-2023 Kryptronic, Inc. Exec Time: 0.666605 Seconds Memory Usage: 3.071754 Megabytes