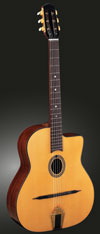 Altamira Guitars
Altamira guitars are crafted by a highly skilled team luthiers, led by owner/luthier Hanson Yao who was an apprentice of the famed Rodriguez workshop in Spain. Altamira's Gypsy models are built using old world methods by just two luthiers who h
Altamira Guitars
Altamira Guitars
Altamira guitars are crafted by a highly skilled team luthiers, led by owner/luthier Hanson Yao who was an apprentice of the famed Rodriguez workshop in Spain. Altamira's Gypsy models are built using old world methods by just two luthiers who have been specially assigned to the task. Altamiras have become some of our best selling instruments over the years, finding their way into the hands of numerous professionals who have found them up to the task of high level performing and recording. The tone and projection of these instruments rivals some of the best handmade instruments, making them a wonderful deal at this price.
DjangoBooks is the North American distributor for Altamira. Dealer inquiries welcome.
Altamira guitars are warrantied against manufacturer's defects for one year from the date of purchase.
SPECIAL!!! Free Setup Included with all Altamira Guitars (Includes Fret Dress, Custom Bridge, Restring, Tailpiece Leather, Action and Truss Rod Adjustment.) A $215 Value! All work done by our amazing tech John Saba.

Software: Kryptronic eCommerce, Copyright 1999-2023 Kryptronic, Inc. Exec Time: 0.582497 Seconds Memory Usage: 1.926071 Megabytes