2013 Alves de Puga DR 670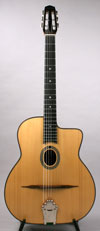 Alves de Puga
Gorgeous cocobolo back and sides at a price that's almost too good to be true!
Arts & Entertainment > Hobbies & Creative Arts > Musical Instruments > String Instruments > Guitars > Acoustic Guitars
alves-de-puga
DR 670
View Offer
DjangoBooks.com
https://www.djangobooks.com/Item/alves-de-puga
2013 Alves de Puga DR 670
2013 Alves de Puga DR 670
With over twenty years of experience, there's no doubt that Jean Louis Alves de puga is one of the most knowledgeable and skilled luthiers that specializes in building Selmer Maccaferri guitars. This exquisite example of his work was entirely handmade by Jean Louis at his workshop in the south-western French town of Puyo˘. A Selmer copy, this guitar has specs that are nearly identical to the original Selmer guitars that were played by Django Reinhardt. The scale length is 670mm and the body is 15 3/4" wide. The top is made of European spruce, the neck is walnut, and the fingerboard is ebony. The most outstanding feature of this instrument is the breathtakingly beautiful cocobollo back sides which are highly figured perfectly bookmatched. The tailpiece is nickel and the tuners are a set of Schaller Classic Deluxe, which are also nickel.

The tone of this instrument is very reminiscent of the warmer, darker, pre-war Selmers that Django favored. The high end is very rounded and thick while the midrange is prominent yet complex. Overall, it produces a very "buttery" sound that lacks the harshness found in more aggressive sounding guitars. It projects very nicely and can be played quite hard without getting too buzzy or brash.

Priced at only $2800, this is easily the best deal in the shop! A French made guitar with this quality materials and workmanship would normally be almost double this price. This slightly used example is in mint condition, with the only signs of use being just a few faint scratches on the body.


This is the CASH price...add 3% (4% for International orders) if you'd like to pay with a credit card.
| | |
| --- | --- |
| Brand | Alves de Puga |
| Year | 2013 |
| Model Number | DR 670 |
| Serial Number | 259 |
| Sound Hole | Oval |
| Fret Neck | 14 Fret |
| Condition | Mint |
| Size | 15 3/4" |
| Scale Length | 670mm |
| Nut Width | 1 3/4" |
| Body Depth | 4 1/8" |
| Top | European Spruce |
| Back and Sides | Cocobolo |
| Neck | Walnut |
| Fingerboard | Ebony |
| Binding | Ebony |
| Finish | Nitrocellulose |
| Tailpiece | Nickel |
| Tuners | Schaller Classic Deluxe Nickel |
| Action | 2.8mm |
| Strings | Argentine 1610 |
| Case | Gig Bag |
| Pickup(s) | None |
| Truss Rod | Yes |
| Weight | 4.6 lbs |
Software: Kryptronic eCommerce, Copyright 1999-2019 Kryptronic, Inc. Exec Time: 0.10993 Seconds Memory Usage: 4.244865 Megabytes