2000 Michael Dunn Belleville ***NEW PRICE!!!***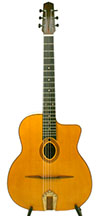 Dunn
Canadian made powerhouse with stunning woods and a HUGE sound!
Arts & Entertainment
michael-dunn-belleville-2000-2
Belleville
2800.00
DjangoBooks.com
https://www.djangobooks.com/Item/michael-dunn-belleville-2000-2
2000 Michael Dunn Belleville ***NEW PRICE!!!***
2000 Michael Dunn Belleville ***NEW PRICE!!!***
Here is a wonderful long scale oval hole guitar by the illustrious Vancouver, B.C. builder Michael Dunn. This very experienced and capable luthier has a career that stretches back to the late 60s. As far as anyone knows, Michael was the first North American luthier to make Selmer inspired guitars.

While Michael's instruments are clearly based on Mario Maccaferri's original designs, they are much more than mere copies. Always unique, Michael's guitars are a breath of fresh air in the very conservative world of Selmer guitars. His willingness to experiment with materials, design, and aesthetics appeals to those looking for something different.

This beautiful Belleville model, Michael's most popular model which was played by Chet Atkins, features a 670mm scale, 14 fret neck, 16 1/4" body, and a 1 7/8" nut. The top is spruce, the back and sides are satinwood, and the neck is mahogany. This guitar also features rosewood binding and "bridged" moustache pieces which reduce dampening.

The sound of this guitar is focused and clear, with a strong midrange that adds a horn like quality to lead lines and richness to chordal playing. It has an exceptional amount of sustain, which allows your single note lines to sing effortlessly. And like most of Michael Dunn's guitars, this instrument is quite loud with enough projection to see you through most acoustic performance situations. The prodigious bass response gives chords a larger than life, pianistic quality that is well suited for both rhythmic accompaniment and solo, unaccompanied pieces.

The playability of this guitar is beyond excellent with low 2.8mm action

This instrument is in excellent condition with only a few signs of moderate use. There are a few small scracthes and dings on the top and just a slight bit of fretwear. Otherwise, a very clean example of Dunn's work.

Includes DATT hardshell case.

This is the CASH price...add 3% (4% for International orders) if you'd like to pay with a credit card.


| | |
| --- | --- |
| Brand | Dunn |
| Year | 2000 |
| Model Number | Belleville |
| Serial Number | 342 |
| Sound Hole | Oval |
| Fret Neck | 14 Fret |
| Condition | Excellent |
| Size | 16 1/4" |
| Scale Length | 670mm |
| Nut Width | 1 7/8" |
| Body Depth | 4" |
| Top | Spruce |
| Back and Sides | Satinwood |
| Neck | Mahogany |
| Fingerboard | Ebony |
| Binding | Rosewood |
| Finish | French Polish |
| Tailpiece | Dunn Gold |
| Tuners | Sperzel Black |
| Action | 2.8mm |
| Strings | Argentine 1610 |
| Case | DATT Hardshell |
| Pickup(s) | None |
| Truss Rod | Yes |
| Weight | 4.05 lbs |
Software: Kryptronic eCommerce, Copyright 1999-2023 Kryptronic, Inc. Exec Time: 0.039202 Seconds Memory Usage: 1.453491 Megabytes