1933 Selmer Conversion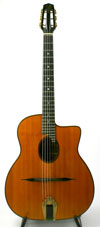 Selmer
Converted to a 6 string by the legendary Marco Roccia. Similar to Diz Disley's!
Arts & Entertainment > Hobbies & Creative Arts > Musical Instruments > String Instruments > Guitars > Acoustic Guitars
selmer-conversion
Orchestre
22500.00
DjangoBooks.com
https://www.djangobooks.com/Item/selmer-conversion
1933 Selmer Conversion
1933 Selmer Conversion
If you've always wanted to own a Selmer guitar but found the prices put them out of reach, then this is the instrument for you! This guitar is one of a handful of Selmer 4 cordes Grand Modeles (a 4 string guitar that was a precursor to the Eddie Freeman model) that was converted to a 6 string guitar. The work was carried out by Marco Roccia, an Italian luthier located in London, sometime after WWII. Roccia was head of the restoration department of the instrument manufacturer Clifford Essex and had also been a good friend of Mario Maccaferri. Many of Roccia's Selmer conversions were commissioned and sold by Louis Gallo, an Anglo-Italian guitarist who played in the style of Eddie Lang. A capable luthier, Roccia's work has stood the test of time as his excellent conversions sound and play very much like original Selmer guitars.

This fabulous instrument began its life in 1933 as one of a handful of 4 cordes Grand Modeles that Selmer built based on a design by the British tenor banjoist Eddie Freeman. The 4 cordes Grand Modele had the same body (including the internal resonator and D shaped soundhole) as the original Maccaferri Orchestre Modele. However, it was adapted for only four strings so it had a narrower neck. The exact process Roccia used to convert four string Selmer guitars is not precisely known, but we can assume he replaced the top, removed the internal resonator, replaced the neck, and fitted a set of six string HSC tuners. Most of Roccia's conversions, including this one, feature an over-sized oval soundhole and a fretboard extension. A nearly identical Selmer conversion was played by the well know British guitarist Diz Disley who played extensively with Stephane Grappelli.

The neck is clearly based on Selmer's original specs as it has a grafted headstock and a slotted peghead. However, the shape of the headstock, the heel, and Selmer logo do not conform to typical Selmer proportions. Also, the neck appears to be made of mahogany rather than the standard walnut. Roccia most likely constructed this neck himself.

Both the tuners and tailpiece are original HSC hardware. However, the base plates for the tuners appear to those used by Busato. The tuning mechanisms and the covers are original HSC.

As you'd expect, over 80 years of aging has allowed this guitar to mature into an exquisite sounding instrument! It has the sort of clarity and depth of tone that only a well seasoned instruments posses. I particularly like the clarity and snap of the treble register. This guitar adds a nice "zing" to your lead lines which makes soloing a joy. There's no doubt, this guitar has one BIG personality!

This instrument is in very good condition for it's age. It has been completely restored and has new frets and very easy playing 2.8mm action. There are two long top cracks which have been cleated and are stable.

This is the CASH price...add 3% if you'd like to pay with a credit card. Add 4% for international credit card orders.


| | |
| --- | --- |
| Brand | Selmer |
| Year | 1933 |
| Model Number | Orchestre |
| Serial Number | 218 |
| Sound Hole | Oval |
| Fret Neck | 14 Fret |
| Condition | Very Good |
| Size | 15 3/4" |
| Scale Length | 650mm |
| Nut Width | 1 3/4" |
| Body Depth | 3 7/8" |
| Top | European Spruce |
| Back and Sides | Indian Rosewood |
| Neck | Walnut |
| Fingerboard | Ebony |
| Binding | Ebony |
| Finish | Nitrocellulose |
| Tailpiece | Selmer |
| Tuners | Selmer |
| Action | 2.8mm |
| Strings | Argentine 1610MF |
| Case | Boston Hardshell |
| Pickup(s) | None |
| Truss Rod | No |
| Weight | 4lbs |
The original "Wegen" Gypsy Guitar pick. 3.5mm thick, 30mm long, 26mm wide.
The original Gypsy jazz strings! Used by Django Reinhard and nearly every other Gypsy guitarist.
Vintage Django tone for Selmer/Maccaferri oval hole guitars.
Software: Kryptronic eCommerce, Copyright 1999-2023 Kryptronic, Inc. Exec Time: 0.045733 Seconds Memory Usage: 1.465553 Megabytes