2019 Goulielmos Selmer ***NEW PRICE!!!***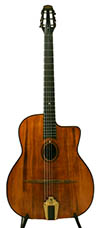 Goulielmos
Rare Greek made Selmer with loads of power and personality!
Arts & Entertainment
goulielmos-2019
OV-670
2900.00
DjangoBooks.com
https://www.djangobooks.com/Item/goulielmos-2019
2019 Goulielmos Selmer ***NEW PRICE!!!***
2019 Goulielmos Selmer ***NEW PRICE!!!***
This lovely Selmer copy was made in Greece by Adonis Goulielmos of TΣIGANiZE IT GUITARS. It features a European spruce top, laminate African mahogany sides, a solid African mahogany back, a mahogany neck, maple binding, and an ebony fingerboard. It is outfitted with a set of antique DJ three-on-a-plate tuners and a brass HSC tailpiece.

Unlike typical Selmer copies, the truss is accessed from the headstock.

The tone of this instrument is spunky and light, with a snappy response and a delightful openness to the sound. This guitar projects extremely well, with the kind of power that will allow you to blast through the din of any campfire jam with ease. Chords sound crisp and crunchy which results in a rhythm sound that has character and attitude. There's no doubt that this guitar has one hell of a personality, making it a standout in any players collection!

This is a great deal for a fine, European handmade instrument!

This is the CASH price...add 3% (4% for International orders) if you'd like to pay with a credit card.


| | |
| --- | --- |
| Brand | Goulielmos |
| Year | 2019 |
| Model Number | OV-670 |
| Serial Number | 59 |
| Sound Hole | Oval |
| Fret Neck | 14 Fret |
| Condition | New |
| Size | 15 3/4" |
| Scale Length | 670mm |
| Nut Width | 1 11/16" |
| Body Depth | 3 7/8" |
| Top | European Spruce |
| Back and Sides | African Mahogany |
| Neck | African Mahogany |
| Fingerboard | Ebony |
| Binding | Ebony |
| Finish | Antique |
| Tailpiece | HSC Gold |
| Tuners | DJ Antique with Ebony Buttons |
| Action | 2.6mm |
| Strings | Argentine 1610 |
| Case | Rockbag Molded Foam |
| Pickup(s) | None |
| Truss Rod | Yes |
| Weight | 4.1 lbs |
Software: Kryptronic eCommerce, Copyright 1999-2023 Kryptronic, Inc. Exec Time: 0.13519 Seconds Memory Usage: 2.415909 Megabytes