The acclaimed luthier Riccardo Mordeglia hails from Ferrara, the Italian heartland of guitar making that also produced pioneering builders such as Luigi Mozzani and Mario Maccaferri. Riccarddo is a diligent student of the Emilian school of luthiers and has had the opportunity to restore original instruments constructed by Mozzani and Maccacferri. These luthiers laid the groundwork for the modern "Gypsy guitar." Riccarddo has taken it upon himself to take a look back at the original design principals of these groundbreaking luthiers and adapt them to make the best possible Gypsy jazz guitar.

This unique Wappen model is based on a popular design built by Mario Maccaferri's mentor Luigi Mozzanni. Wappen style guitars, also known as "shield guitars" due to their body shape, originated in Austria and are known for their small bodies and symmetrical double cutaway design. The design became popular with numerous builders including Luigi Mozzanno as well as the Spanish builder Julian Gomez Ramirez. Django can be seen playing a Ramierz wappen style guitar in the 1932 film Clair de Lune: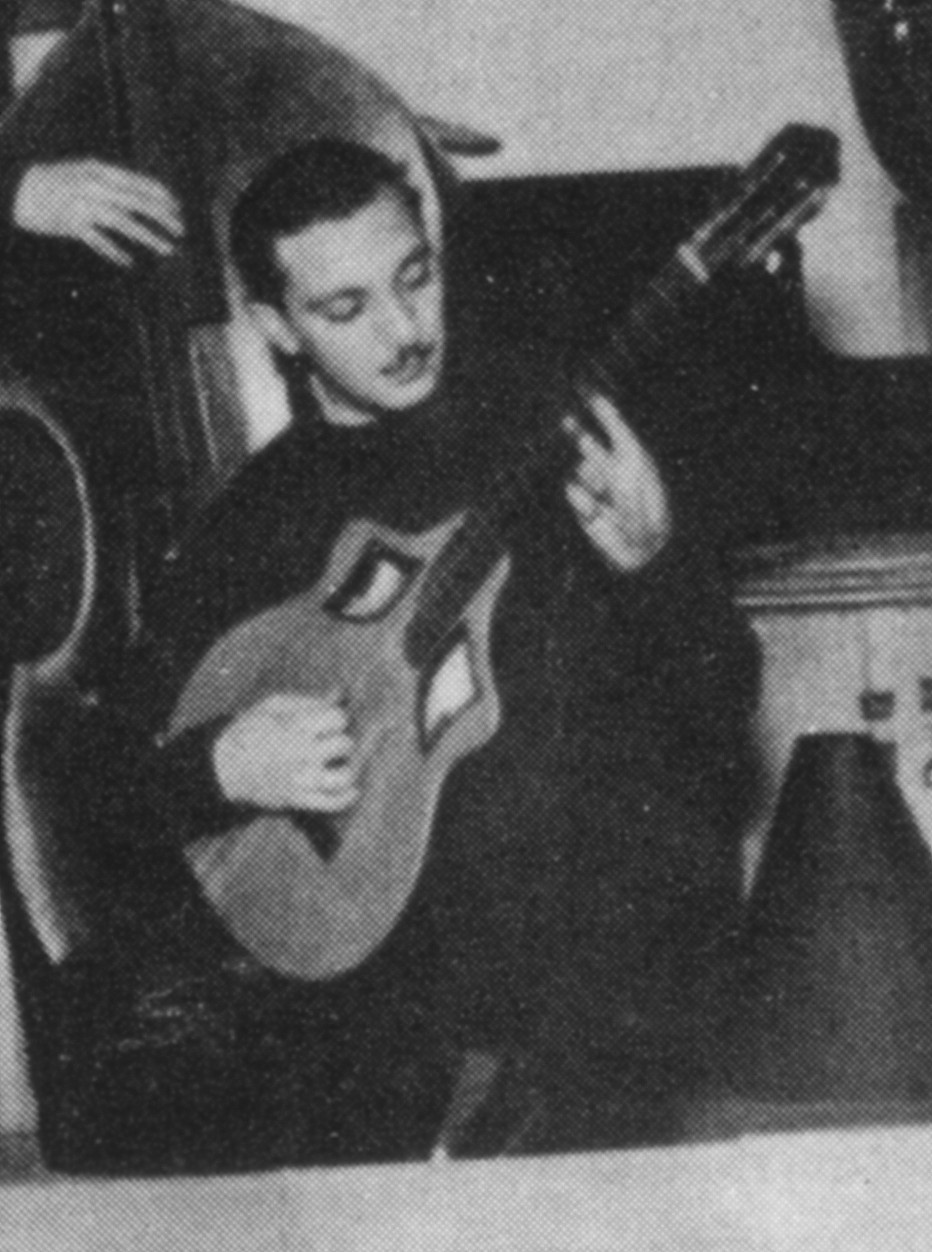 Riccardo based this wappen design on a Mozzani built instrument that features an increased body size (16 1/4" ) and longer scale (670mm) than is typical of more traditional wappen guitars. The larger body and scale length allow this instrument to produce the sort of tone and volume you'd expect of a full sized gypsy guitar. Additionally, this instrument features handsome cherry back sides, aged Val di Fiemme spruce top (sourced from an old piano,) and a mahogany wenge neck with a wenge fingerboard. Hardware includes a Di Mauro tailpiece and a set of nickel three on plate tuners. The unique bridge design includes a bone saddle along with bridge-end decorative inlays.
The sound of this instrument seems to speak from a bygone era, with a voice more akin to the guitars built during the 1930s Golden Era of Franco-Italian luthiery. The aged spruce works its magic, producing a mature and open tone that fills the room with ease. The heat bent top allows for a quick, snappy attack and lots, and lots of volume. This instrument produces exceptionally crisp, singing leads that are chimey and beautiful. This is a result of this guitar's wonderful high end response which is colorful, rich, and cutting. The bass response is perfectly present, but not overwhelming, resulting in excellent clarity and definition across the entire range of the instrument.

This instrument has very easy playing 2.8mm action with a very slinky, smooth feel which makes it a joy to play!
This guitar is fashion statement that will standout both visually and sonically at any gig or jam. Go ahead and treat yourself to this wonderful, unique instrument that has all the old world charm you could ever ask for!
This is the CASH price...add 3% (4% for International orders) if you'd like to pay with a credit card.