2015 Goulielmos Selmer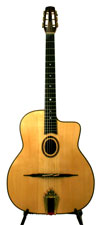 Goulielmos
Rare Greek made Selmer with cypress back and sides!
Arts & Entertainment
goulielmos-2015-3
Selmer
View Offer
DjangoBooks.com
https://www.djangobooks.com/Item/goulielmos-2015-3
2015 Goulielmos Selmer
2015 Goulielmos Selmer
This lovely Selmer copy was made in Greece by Adonis Goulielmos of TΣIGANiZE IT GUITARS. It features a German spruce top, three piece cypress/rosewood back, cypress sides, a mahogany neck, ebony binding, and an ebony fingerboard. It is outfitted with Grover tuners and a Saga tailpiece. The bridge features a compensated, two piece saddle.

Unlike typical Selmer copies, the truss is accessed from the headstock.

The tone of this instrument is spunky and light, with a snappy response and a delightful openness to the sound. The cypress back and sides give the instrument a bit of a flamenco flare that you don't typically hear in Selmer guitars. This guitar projects extremely well, with the kind of power that will allow you to blast through the din of the proverbial campfire jam with ease. Chords sound crisp and crunchy which produces a rhythm sound that has character and attitude.

This instrument is in excellent condition but does show signs of significant use over the it's short life. It has quite a bit of pickwear on the top, especially on the treble side of the top which has a lot of pick scratches and dings. The frets are also worn and will likely need to be crowned sometime soon. The treble side moustache piece also has some wear, with a bit of wood having been rubbed off. There are signs that this guitar once had a pickguard but it has been removed. Otherwise, this instrument is in excellent condition with no major damage or repairs.

This is a great deal for a fine, European handmade instrument, which are very hard to come by in this price range.

This is the CASH price...add 3% (4% for International orders) if you'd like to pay with a credit card.


| | |
| --- | --- |
| Brand | Goulielmos |
| Year | 2015 |
| Model Number | Selmer |
| Serial Number | 25 |
| Sound Hole | Oval |
| Fret Neck | 14 Fret |
| Condition | Very Good |
| Size | 15 3/4" |
| Scale Length | 670mm |
| Nut Width | 1 11/16" |
| Body Depth | 4 3/16" |
| Top | German Spruce |
| Back and Sides | Cypress |
| Neck | Mahogany |
| Fingerboard | Ebony |
| Binding | Ebony |
| Finish | Natural |
| Tailpiece | Saga |
| Tuners | Grover |
| Action | 2mm |
| Strings | Argentine 1510 |
| Case | Hardshell |
| Pickup(s) | None |
| Truss Rod | Yes |
| Weight | 4.35 lbs |
Software: Kryptronic eCommerce, Copyright 1999-2022 Kryptronic, Inc. Exec Time: 0.076679 Seconds Memory Usage: 4.513809 Megabytes