2014 Marchand Jazz Manouche PB-670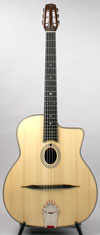 Marchand
French made Selmer copy with a real heat bent pliage!
Arts & Entertainment
jerome-marchand-selmer-replica
Jazz Manouche PB-670
4250.00
DjangoBooks.com
https://www.djangobooks.com/Item/jerome-marchand-selmer-replica
2014 Marchand Jazz Manouche PB-670
2014 Marchand Jazz Manouche PB-670
This wonderful Selmer copy was handcrafted by the immensely talented French luthier Jerome Marchand. Jerome made every effort to remain true to the original Selmer design, resulting in a guitar which evokes the golden era of Gypsy jazz in both sound and appearance. One of the most noteworthy features of this guitar is the authentic heat bent pliage. This feature is a must for any aficionado of Selmer Maccaferri guitars, and is normally only found in very expensive flagship models like the Dupont Vieille Reserve. The heat bent pliage places the apex of the top right under the bridge, which is key in producing the punchy, quick attack that the original Selmer guitars were famous for. It's remarkable that this relatively affordable instrument has such a prestigious feature!

In the spirit of the original Selmer design, this guitar features a spruce top, Indian rosewood back and sides, a walnut neck, and an ebony fingerboard. The tuners are a set of Schaller's top of the line nickel Classic Deluxe which have been paired with a handsome nickel tailpiece.

The fret work is impeccable and the action is set at a slinky 2.8mm. There's no doubt, this guitar is as easy on the hands as it is on the eyes.

The tone of this instrument is very reminiscent of Django's classic sound, which is what you'd expect from a guitar with such traditional design features. One can clearly hear that indelible Selmer midrange that is complex and smokey along with a bass response that is filling yet not too boomy or muddy. There is also a pleasant "openness" to the sound which adds some nice spice to the clear and present high end. At one moment syrupy and sweet, and at another authoritative and barking, this well rounded instrument can do it all!
This is the CASH price...add 3% if you'd like to pay with a credit card. Add 4% for international credit card orders.

| | |
| --- | --- |
| Brand | Marchand |
| Year | 2014 |
| Model Number | Jazz Manouche PB-670 |
| Serial Number | 0314028 |
| Sound Hole | Oval |
| Fret Neck | 14 Fret |
| Condition | New |
| Size | 15 15/16" |
| Scale Length | 670mm |
| Nut Width | 1 3/4" |
| Body Depth | 4" |
| Top | Spruce |
| Back and Sides | Indian Rosewood |
| Neck | Walnut |
| Fingerboard | Ebony |
| Binding | Rosewood |
| Finish | Satin |
| Tailpiece | Nickel |
| Tuners | Schaller Classic Deluxe Nickel |
| Action | 2.8mm |
| Strings | Argentine 1610MF |
| Case | Rockcase Hardshell |
| Pickup(s) | None |
| Truss Rod | Yes |
| Weight | 4.4 lbs |
Software: Kryptronic eCommerce, Copyright 1999-2023 Kryptronic, Inc. Exec Time: 0.175428 Seconds Memory Usage: 4.718956 Megabytes