By Michel Mercier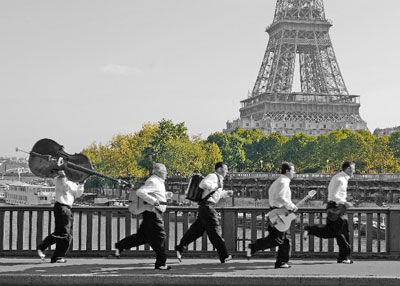 The jazz manouche scene in France has evolved tremendously over the past 15 years.
Until the early 2000's, the jazz manouche scene was comprised of a small, tight-knit community. Several factors then merged together and gave birth to a real trend: the release of Woody Allen's "Sweet & Lowdown" with his numerous Django references, Bireli's awesome comeback with his Gypsy Project's albums, Django's 100th anniversary or the French mainstream success of Thomas Dutronc to name only a few.
Bands were really growing like mushrooms! Jazz manouche was starting to sneak into TV documentaries soundtracks, TV ads, TV shows with guests such as Bireli, Serge Krief, Marcel Campion, Romane, Thomas Dutronc … Cd shelves in stores went from 6 or 7 jazz manouche references to almost 150.
Consequently, the style has now become a music genre that's recognizable by mainstream audiences but the popularity of Gypsy jazz has declined a bit over the last few years. However, from a hardcore fan point of view, it's much better! We got rid of all the fuss and also some of the wannabe guitar-heroes. This invasion of "Gadjo-chapeau" was getting annoying… Heaps of blokes playing with hats on, stiff right-hands, wrigglin'around when playing in their loose pants… enthusiasm was here but that was kind of depressing actually!
Nevertheless, the benefit of this decade is that Django's name became even more famous and Jazz manouche really became a recognizable genre for record shops, jazz festivals or jazz radios like "TSF".
As far as musicians are concerned, "free-lancers" appeared frequently. They came and went. You'd see them for a year or two and then they'd turn to straight jazz. These guys, although being excellent guitarists, never played 100% Django style and didn't know much about the Gypsy jazz repertoire. They made you realize once again that the spirit of Gypsy jazz is not a matter of awesome technique and complex phrasing, but a matter of FEELING, blending feeling and technique being the icing on the cake, as did the 90's generation who is still here: Romane, Serge Krief, Rodolphe Raffali, Raphaël Fays (now more into Flamenco), the Ferré Brothers, Angelo Debarre, Moreno, Dorado, Tchavolo, Ninine… You can regularly hear many of those top players in Paris or around France.
Raffalli is playing each Monday at Le piano vache, Ninine at La Chope des puces (with its Gypsy hard-Rock café design), the Ferré brothers can be heard at L'Atelier Charonne as well as Angelo who also plays at Les petits joueurs or Le petit journal Montparnasse. Romane is roaming France, often with his sons Richard and Pierre. Serge Krief has been invited to the Oslo Jazz festival with Jon Larsen's Hot Club de Norvège. That was a very nice promotion for a truly original and skillfull player, unfortunately too rarely seen. He plays quite regularly at L'Atelier Charonne though and summer visitors can hear him each year at the Jardin des Tuileries' fair.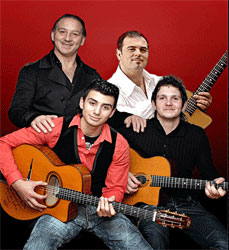 Dorado and his family (Samson, Amati, Bronson and cousin Brady) are touring in numerous countries like France, Germany, Italy or in the USA where they even played for Leonardo Di Caprio! Who knows, maybe Leo advised Scorsese about the Django songs featured in the "Aviator" soundtrack… Looks like he appreciates gypsy guitar anyway. The Schmitt family is really one of a kind: they master a flawless and fiery technique, they've got soul and an incredible talent for composing beautiful songs with just a few chords: a modern feel with an ancestral gypsy soul. Take "Paris sous la pluie" by Dorado, "Stan" by Samson, "Sonny Day" by Amati, or the lesser known but still thrilling "En voyage" by Bronson Schmitt… you can hardly sound more Jazz manouche than that!
Of course you all know Sébastien Giniaux, Adrien Moignard, Benoît Convert, Rocky Gresset, Noé Reinhardt… the Selmer 607 crew, so to say. Now these guys have really created a new style of playing. Some call it the "New School of Gypsy Jazz", the biggest influence being Bireli Lagrène of course. He's the one who changed the scene. Lately he released a jazz-rock influenced album: "Mouvements", with a mind-blowing title track. Bireli's always on the move!
Now back to Adrien, Sébastien and Benoît, who are the leading players in today's jazz manouche scene. People come from England, America, and Australia to meet them and follow their path. In France their influence is really important. It sometimes leads to surrealist discussions… I once met a young player (now quite famous with his licks and transcription videos) and asked him if he listened to Django, Wes, etc… the basis. Well here's what he answered to me: "No I don't listen to them: I transcribe Adrien's solos because he already transcribed all these guys licks". I didn't know if should have cried or laughed!
RP Quartet is another band of young guys who blends French jazz with the golden age of American jazz, building a bridge between Django's legacy and the music of Monk, Coltrane, Mingus… Both violinist Bastien Ribot and guitarist Edouard Pennes are undoublty as skilled as the most famous players and should gain fame in the community very soon. Ribot has a cutting modern-jazz style and Pennes has an incredible and flawless technique. They surely both are part of the Parisian scene's best kept secrets. Didier Lockwood himself makes laudatory comments about this band. Their second album "Goat Rhythm" was released in France on March 3rd under the Frémeaux & Associés label. They played a show to a packed audience at the  New Morning the same night and it was a real success. Half of the Parisian jazz manouche scene was there, including Serge Krief and Adrien Moignard who were in the audience. A few days ago we just learned they will be playing on this year's Samois festival main stage so whether you'll be there this year or just  surfin' the web, be shure to check them out!
Looking closer at the younger generation, everyone knows that young prodigies keep appearing once in a while but their career and future is sometimes uncertain. Those gaining recent acclaim include Swan Berger, Pierre Manetti, Noé Reine or Sandro Lorrier with his flamenco finger technique.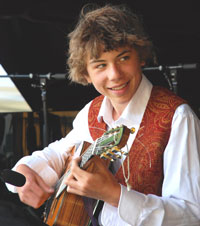 Antoine Boyer, who was trained by Francis Alfred Moerman, quickly recognized among both professionals (musicians, producers, journalists) and jazz manouche lovers as uniquely talented prodigy. With an unexpected musical maturity for his age, he has shared the stage with seasoned players such as Paulus Schäfer and Adrien Moignard. Adrien and Antoine worked together for a few concerts in 2013, with intricate arrangements and a nice repertoire.
The Reinhardt family legacy proudly continues in the playing of Django's descendants: grandson David Reinhardt (son of Babik Reinhardt) and Levis Adel (descendant of Lousson). David has been invited in January 2013 to play with James Carter for the closing of the Parisian Django Reinhardt exhibition. Seeing David Reinhardt play with James Carter was really something. It was quite an impression for French jazz manouche fans to see one of America's best African American saxophonists pay tribute to Django Reinhardt. The opening song of Carter's show was "Pour que ma vie demeure". Even some gypsy players don't know that song… wow!
Now about records production, new labels like Label Ouest or Ivan Minthe's Rosenberg Trio productions appeared in the recent years and that's really good news because they're doing a terrific job, being with front-line releases or reissues.
Samy Daussat is now the new artistic director for Label Ouest. Knowing what a man of taste and skillful player Daussat is, the choice couldn't have been wiser. After having released in 2013 his own excellent and joyful "Scopitone" album featuring Tchavolo on a few songs, it's now Tchavolo's turn to record a brand new album! Yes my friends, 14 new songs of our good'ole Tchavolo are already recorded and should be released in May.
We spoke a few lines before about Frémeaux releasing the new RP Quartet record. Also from Frémeaux, released in 2013, let's not forget the excellent Raffali's "Chansonettes", featuring soulful renditions of chanson française classics in true Parisian style. This is an album really worth listening to and one of the few to feature the sought-after accordionist Felix Belleau.
Another star of the gypsy jazz galaxy is also about to release an album with Frémeaux but I will tell you more soon with an exclusive interview of this great young player…
To close this releases overview, I shall recommend to you Christophe Astolfi's debut album: "Christophe Astolfi et son trio joue des valses". Mark my words: this album is really a gem. It features waltzes only, played on a 1973 Jacques Favino guitar. The repertoire is chosen with great taste, the playing is exquisite and never shows off. Astolfi's great sense of nuance only serves the music. This record is really an instant classic, a true must-have like "Tziganskaïa" or "Impair et valses".
Last but not least, speaking now about guitar gear, I can tell you a new magnetic pick-up is on it's way. It should undoubtedly please Django memorabilia and vintage sound fans, but I can't say more right now…
Wait and see!
Michel "Mitch" Mercier