During the 1960s,
Philippe Nedjar
was one of the rising stars of the Parisian Gypsy jazz scene. Although a non-Gypsy from a Sephardic Jewish family, he excelled at the music of Django Reinhardt. Nedjar's knowledge and proficiency in the traditional Django style earned him the respect of the upper echelon of Gypsy musicians. He performed with Babik Reinhardt, Jacques Montagne,
Tchan Tchou Vidal
, and Stephane Grappelli. He appeared at the Samois-sur-Seine Django Reinhardt festival in 1968.
This audio clip was recorded live in 1969. It demonstrates his purist approach to Django's music.
MP3: Micro


By the early 1970s Nedjar had grown weary of the life of a professional musician. The story goes that one night he choose a medium tempo song to end the set. His accompanists suggested that they play the song faster since they were only being paid to play for two more minutes. His sense of musical integrity was deeply offended by such a suggestion. He was there to create art, but his accompanists where just punching the clock. This incident was a watershed event for him. It symbolized his frustration with the difficulties of trying to make it as a musician. Shortly thereafter, he ended his career as a professional guitarist and entered the family business.

Over 30 years later, Nedjar has returned once again to professional music. During his absence, Philippe expanded his musical palette to include American style be-bop. His recent recording may arguably be the best blend of Gypsy jazz and bebop ever recorded:


Shadow of Your Smile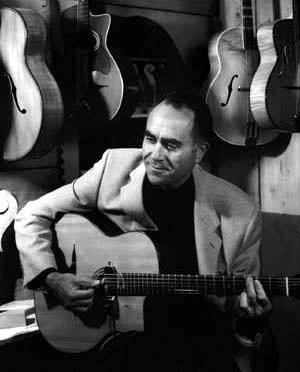 This audio clip was recorded live at the Samois-sur-Seine festival in 2004. It shows his incredible evolution from a Django purist to a sophisticated bebop improviser. This performance of The Night has a Thousand Eye was clearly inspired by John Coltrane's 1960 recording.