By Dwight Deason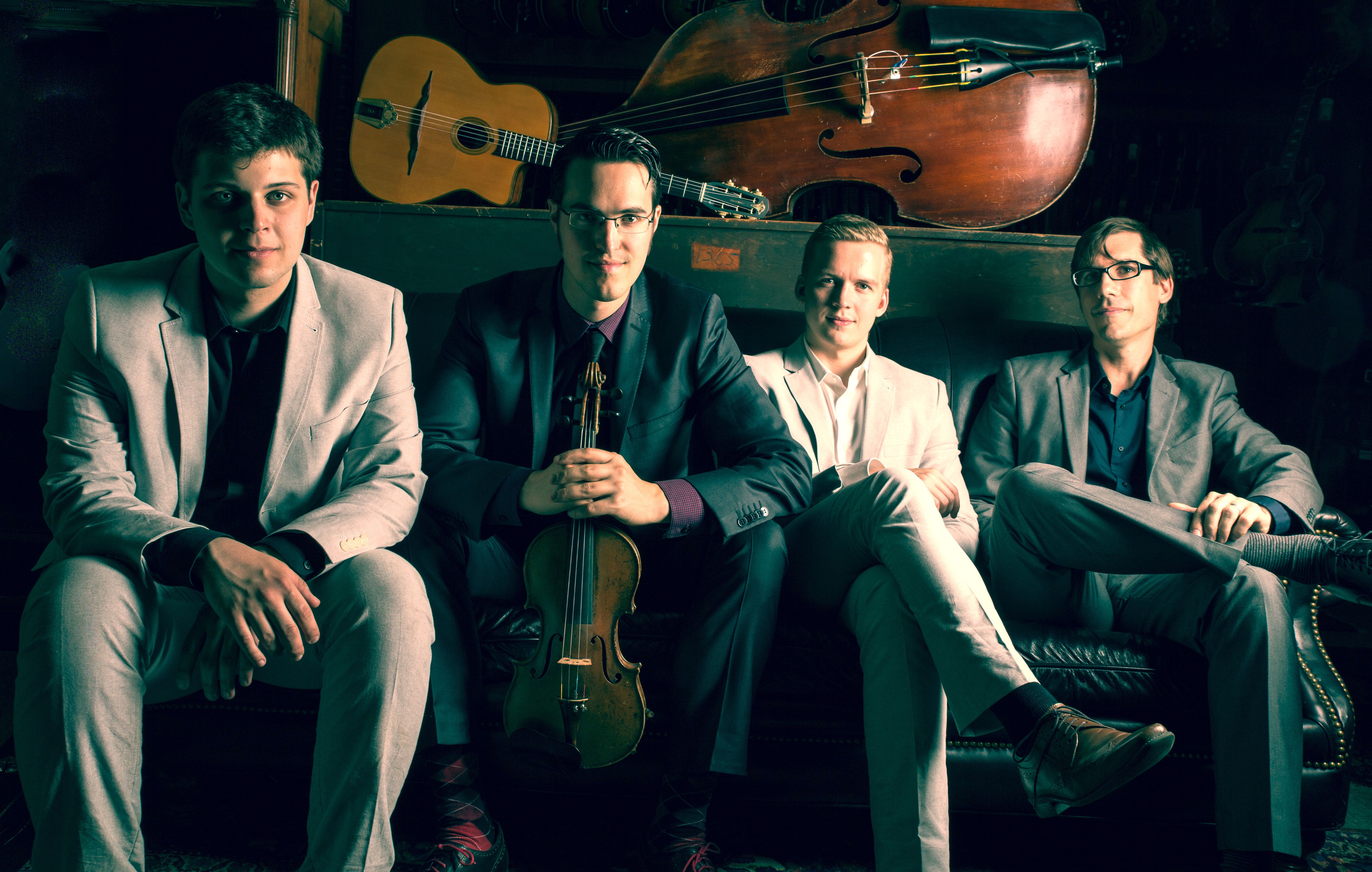 Since their founding, the Rhythm Future Quartet has become one most exciting new Gypsy Jazz bands in America and around the world. Led by Boston based violinist Jason Anick, and Finnish born guitarist, Olli Soikelli (now living in New York City), the band's new CD
Travels
takes a big leap from their eponymous self-titled first release. The band has changed personnel from the first release with Max O'Rouke taking over rhythm duties from Vinny Raniolo. There is no doubting the incredible chemistry between Anick and Soikelli, along with O'Rourke and stalwart bassist Greg Loughman. One glance at Travels and what immediately sticks out is the difference between it and their first CD. The first is primarily the band's arrangements of classic Gypsy Jazz tunes, while the new one is predominantly highly creative originals peppered with some very interesting covers. With a new critically acclaimed album, over a million views on a recent video, and a packed tour schedule, the Rhythm Future Quartet is definitely a group to keep a close eye on! Here's the interview with Jason and the band about the past, present, and future, and of course the new CD. [Dwight]: Do you remember the first time you jammed with Olli? [Jason]: The first time Olli and I met/jammed was at Django in June back in 2012. We were both instructors at the camp that year. We hit it off right away and discussed collaborating more. Only problem was Olli lived in Finland at the time! Luckily he moved to New York City a year and a half after our initial meeting, which helped pave the way for the Rhythm Future Quartet to be born. [D]: When was the first time you and Olli shared the stage? [J]: I believe our first official show together was a pick-up band we assembled for the Brooklyn Gypsy Fest at Shapeshifter Lab in 2012. We did a few more shows together as sidemen with various musicians (Frank Vignola and Nicky Perrot) before we decided to form the RFQ. [D]: Give us the history of how the actual band was formed.
[J]: After Olli and I started playing more and more together, I got a call from Peter Parcek, a Boston based blues guitarist and Django enthusiast, who wanted to put together a Gypsy jazz night at Red Star Union in Cambridge, MA and feature me and Olli. Part of the deal was they did a professional multi-camera shoot of the performance and gave you a copy to use at your own discretion (our version of "Minor Swing" on YouTube was from this show). Olli and I decided that this could be a great way to jump-start a project together, so we assembled a great rhythm section (Vinny Raniolo on guitar and Greg Loughman on bass) and named it the Rhythm Future Quartet. We booked a 5-day tour around the Red Star Union show and it was a huge success. We knew we had something special, the chemistry was there and we had a unique collective vision of where we wanted to take this music. We hit the ground running and haven't stopped since! [D]: Give us an idea how you juggle your schedule between your teaching duties at Berklee, playing with John, and of course Rhythm Future. [J]: It certainly hasn't been easy juggling everything, but I feel so lucky to have all these great opportunities. It certainly takes good time management and work ethic though. [D]: As stated, the new CD is quite a departure from the band's first one. Was this a conscious effort to go for more originals? [J]: Yes. We released our first album pretty soon after forming the group so that we would have something to sell at shows and start to get our name our there. We were still trying to find our identity as a group, so playing standards with our own arrangements was a way to build a repertoire and start to put our unique stamp on this music. As an avid composer though, I knew in the back of my mind that I wanted our next CD to be mostly centered around original material. As the group continued to tour and grow, we slowly began composing more and more material and eventually headed into the studio to record
Travels,
which was officially released this past February 2016.
[D]: How did you decide which original tunes to include? [J]: The most important thing for us was to feature compositions from each band member. Throughout our travels, each band member started to bring in more and more original material to try out with the group. The ones that ended up on the CD where the "best of", and each piece added something special to the CD as a whole. Another important aspect was diversity, so we picked songs that had different rhythmic grooves, tempos, vibes, etc. [D]: Come Together is quite the surprise- how did that come about including the arrangement? [J]: I have always been a big Beatles fan, even recorded an arrangement of "You Never Give Me Your Money" on my debut CD,
Sleepless
. I had been working on a funky arrangement of "Come Together" and showed it to the guys. They really liked it and came up with some additional arrangement ideas. It's always a big hit when we perform it live, so we decided to include it with
Travels
. [Next few questions are for Olli Soikkeli] [D]: Tell us how you got into Gypsy jazz in Finland. [Olli]: I grew up in a small town in Finland called Nurmes. After my first guitar teacher moved away, I started studying with Kari Pääkkönen, who introduced me to bunch of different styles of music including gypsy jazz. [D]: What other music did you listen to growing up, and did you play other music. [O]: I started playing the guitar because of the Metallica and other rock groups. I learned a bunch of their songs and played those with my friends, but other than that I really didn't get that deep into playing music outside of Gypsy jazz.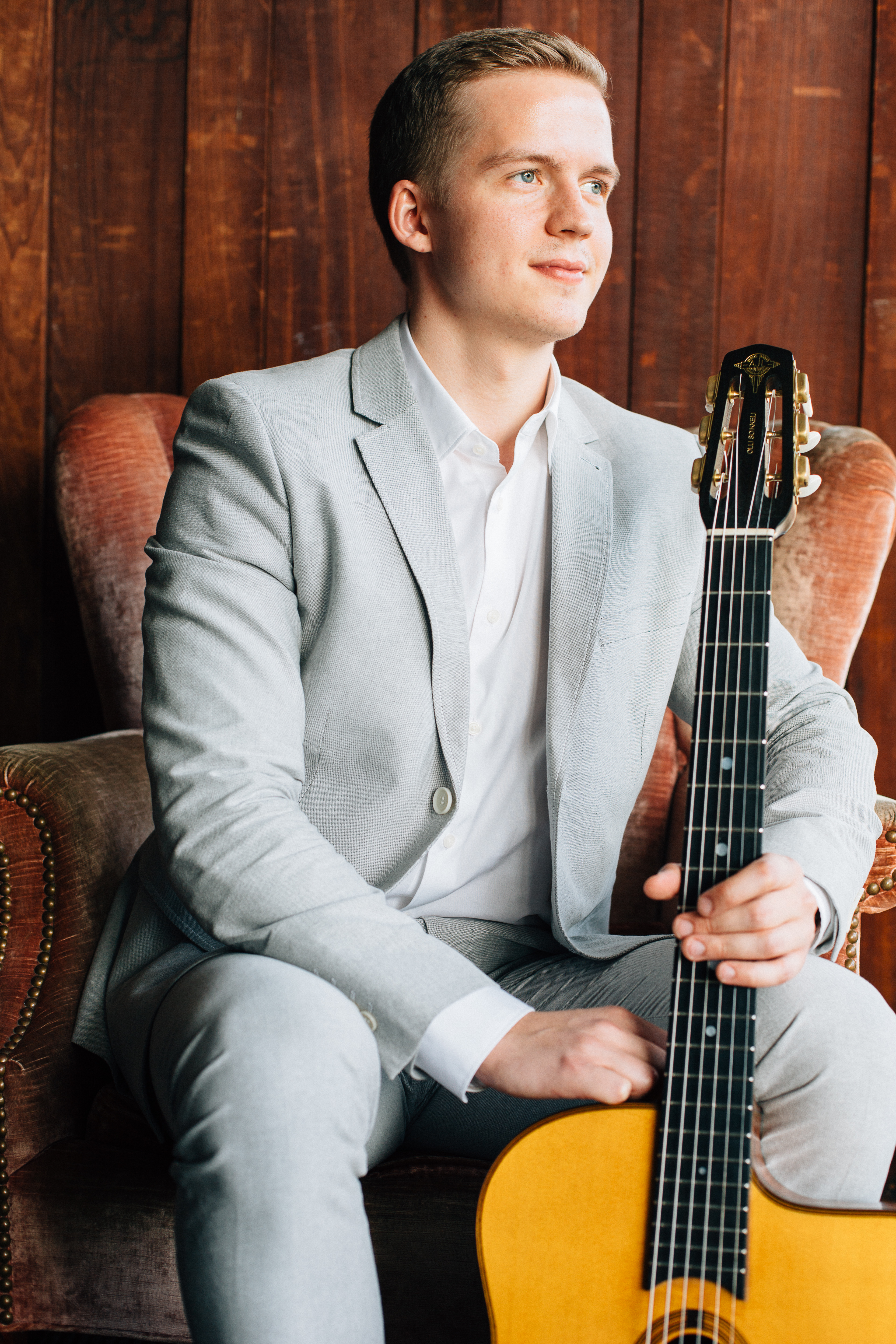 [D]: Tell us about your move to New York- what prompted it and how do you feel it has gone. [O]: I visited NYC the first time in 2011 when a musician friend of mine who I met at the Pori Jazz festival in Finland, encouraged me to come to NYC and check it out. I fell in love with the city and started to come here at least twice a year doing small gigs in town and performances with guitarists Frank Vignola and Vinny Raniolo. During 2012 and 2013 I was invited to perform at a number of the Django festivals here in US like Django in June, DjangoFest Northwest, and DjangoFest Mill Valley. It was at Django in June that I met Jason and we discussed started a group together. Between starting the Rhythm Future Quartet and all the other musical connections I was making in NYC, I decided to apply for a 3-year artist visa. In 2014 I moved to NYC and already had plenty of work lined up between RFQ and all of the musicians I met from my previous trips to the city. [D]: What have been some of your more memorable gigs in NYC. [O]: I did the Django Festival at Birdland with the Schmitt family twice, such an amazing experience playing at the one of the best jazz venues in the world with Gypsy jazz icons. I also got to play at the Lincoln Center with 8-piece jazz band as well as a few times at the Rainbow Room, which is at the top of the Rockefeller Center. [D]: Tell us what you think the future of gypsy jazz, and where is it going? [O]: I think Gypsy Jazz has a bright future. A lot of new interesting music is been made and people from other genres are incorporating gypsy jazz in their music. And now especially in NYC there's a huge boom for hot jazz/swing music and gypsy jazz is right there in the center of that. I feel that even if the Hot Jazz thing doesn't last forever there'll always be an audience for Gypsy Jazz because of the virtuosity and the energy the music has. [Next few questions are for Max O'Rourke] [D]: Give us a history of your musical development, and how did you get into gypsy jazz. [Max O'Rourke]: I started taking guitar lessons when I was six, but I didn't take it seriously until I was about fourteen. When I was around fifteen or sixteen, my teacher at the time showed me Minor Swing and explained a little bit about Django and the way he played. From that point on I was obsessed. That year I enrolled in Django in June, which is where I really learned how to play. Then in 2014 I played my first gig with Gonzalo Bergara and everything just kind of took off after. [D]: Give us your thoughts on being at Berklee. [M]: Berklee is one of the most accepting music schools when it comes to stylistic diversity. On any given day at campus you see people playing jazz, metal, bluegrass, folk, etc., so it's a very encouraging place. I've had a few phenomenal teachers there that have really pushed my development as a musician on all fronts, and I owe them a great deal.
[D]: Who are your influences on the guitar? [M]: As far as Gypsy jazz players, no list would be complete without starting with Django. Then there's Biréli Lagrène, Adrien Moignard, and Rocky Gresset. I also really like the way Benoit Convert writes. Gonzalo Bergara has been a tremendous influence and mentor to me as well. Then there are the wonderful rhythm players like Mathieu Chatelain, Hono Winterstein, and Nous'che Rosenberg that are very important to me. Outside of the style, the guitarists I listen to are usually Wes Montgomery, George Benson, Lenny Breau, and Julian Lage. Lately, I also have been listening to a lot of piano players like Bill Evans, Oscar Peterson, and Brad Mehldau. [D]: What are your plans for the future? [M]: On top of continuing my work with the RFQ and the GBQ, I have a few things in mind. I was just a part of Daisy Castro's new album with Quinn Bachand and Brian Netzley, and I'm really looking forward to start touring with them soon. At some point, I'd also like to do an album of my own. I've been writing a lot of music lately, and it'd be nice to have something out under my own name. [Next few questions are for Greg Loughman] [D]: Give us a history of your musical development. [Greg Loughman]: I grew up in a small town called Zanesville, OH, where there weren't a lot of playing opportunities, so I didn't really start to develop, musically, until I went to college at Capital University in Columbus, OH. After I graduated, I was working enough around Columbus to make a living as a bassist, and have been doing so ever since, most recently in the Boston area. I've never stopped learning about different styles of music, mostly jazz and other genres featuring improvisation, but with a lot of interest in music from around the world. [D]: How did you get into gypsy jazz? [G]: I met Jason Anick at a jam session in the Boston area, and we started working together on his modern jazz projects. I had always liked gypsy jazz in a general way, but when Jason called me to play with him and Olli Soikkeli on a few gigs around New England, I was instantly hooked and immediately started digging as deeply as I could into the genre. It's been a great addition to my list of musical interests.
[D]: Who are your influences on the bass? [G]: In the gypsy jazz genre, I've been digging Jérémie Arranger, William Brunard, Diego Imbert a lot lately. They each have their own unique way of playing gypsy jazz in a modern way that still respects the history of the music. That appeals to me as someone who is coming from more of a modern jazz background, and I think it also works well with the more modern gypsy jazz style Rhythm Future leans toward. Outside of the gypsy jazz genre, I've checked out a lot of Ray Brown, Paul Chambers, Sam Jones, as well as more modern players like Dave Holland, Scott Colley, Christian McBride, and many others. [D]: I really enjoy Iberian Sunrise on the new CD- do you write a lot? [G]: Thanks! I do a fair amount of writing; lately I've been writing specifically for the various ensembles I play with, whether it's the balkan/klezmer band I play with Klezwoods, or my indie rock group Lowman, or the world jazz trio Roving Soul, etc. I knew that Jason, Olli, and Max would be able to take what I wrote into the stratosphere, and they did! One of the thing I love about Rhythm Future is how we all work together to arrange each song; we all have lots of freedom to put our ideas and personal styles into each song, which elevates the band as a whole and makes it more than the sum of it's parts. [D]: Ok, final question – tell us what is up for the future of Rhythm Future? Gigs? New Recordings? Collaborations? [J]: It's hard to tell what the future will hold, but we are certainly excited and believe there are lots of unique opportunities still ahead of us. We plan on making another record down the road of all original material as well as a doing a live recording/DVD project with some of our friends and fellow musicians from the U.S. and Europe. As for other collaborations, we are open-minded so anything can happen!