By Denis Chang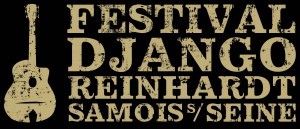 Every year, without fail, I get emails from people all around the world telling me that  they're going to Samois for the first time. So they ask me for help/advice.  So here's an article that will save me lots of time! Before I start, since information and sites may change over time, I will not give away any kind of internet links or phone numbers; instead, I invite you to simply search the internet. I hope to update this article every now and then. You'll see above the date of the last revision; all information is accurate until the last date of revision, so make sure to always confirm.
I have been going to Samois for over 10 years now, so I have a very clear idea of how things work. I also speak French, which is a tremendous help; I sometimes wonder how non-French speakers manage in such a tiny town where service is extremely limited!
First things first: if you are planning to go to Samois, the earlier you start your planning, the better. The festival has seen tremendous growth in attendance over the past 10 years. Even though I started going in the early 2000s, at that time, it was still a smallish festival. People who have been going for much longer have told me of a time when it was even smaller than that. Today? Forget about it! I'm not going to talk about the pros and cons of this, as I'm sure you can imagine it yourself.
What this means, however, is that hotels / campsites get fully booked earlier and earlier. Some people reserve a year in advance, if not more! The longer you wait, the harder it is, especially if you are a foreigner and it's your first time.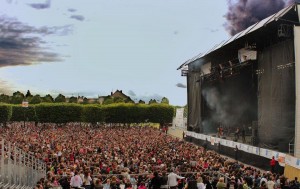 Figure out as soon as you can, whether you want to stay indoors, or camp. The two main campsites that exist are Le Petit Barbeau and Samoreau.
Le Petit Barbeau campsite is the closest to the festival, but it is still a 15-25 minute walk (approximately 2 km). Note, that in 2015, there were talks about the campsite being closed, but then it was announced that it would open for the festival. Hence, the importance of making sure all information is up to date by confirming with the appropriate parties.
Samoreau is a 40 to 60 minute walk (approximately 4 km) from the festival site. When searching on Google, remember that the Samoreau campsite is located in the actual town of Samoreau, so be sure to specify. I've put it here in italics, just to differentiate between the two.
Traditionally, Samoreau is considered the "happening" place, where a lot of the well-known players either camp or hang out. Over the years, many people have boycotted the actual festival entirely and stayed at the campsite! I say "traditionally" because as this knowledge became more and more popular, more and more people are now hanging out in Samoreau. As a result of this, like the gold rush, a lot of the intimacy from the earlier years has gradually disappeared. Please don't misconstrue my words, I am not saying that it's no longer any good; what I am saying is that there is no one single, definitive magic spot anymore.  Great jams now happen everywhere and there's just no way to know in advance. If you have a car, you can easily hop from place to place, if not, you are basically playing the lottery.
As Samoreau has gotten more and more crowded, some people have decided to hang out at Le Petit Barbeau instead. In past years, many top players have been hanging out there instead of Samoreau!
Some Gypsies also have their own camping area between the festival and Le Petit Barbeau, but they tend to be more private. It's not that non-Gypsies are not allowed to visit, but it's generally been exclusively Gypsies hanging around that area.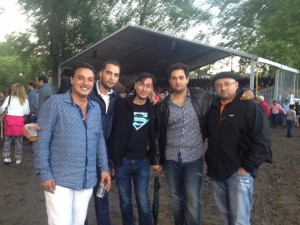 Are the campsites safe? Well, I would not recommend them if you were a naïve trusting person! Any valuables left unattended are likely to be stolen, and that's all that I will say about it!
If the campsite life is not for you, then you have to look for a hotel or alternative accommodation. Hotels can be found by searching the internet with keywords such as Samois, Fontainebleau, Bois-le-Roi, etc. The village of Samois-sur-Seine only has one hotel that tends to be fully booked very quickly. It is also on the more expensive side during festival season.  If you don't have a car, and only plan on hanging out at the festival site and/or Le Petit Barbeau, it can be a decent choice.
Otherwise, you have to look for hotels in better-populated areas. The main one is Fontainebleau. From the train station to the festival, it is about 4.5 km. There are a few hotels close to the train station, but most are found in the downtown area, which is another 3 km away in the opposite direction!  If you are the kind of person that is in need of convenience and amenities, Fontainebleau might be the best choice, as you'll find the usual stores that one would expect from major cities. However, keep in mind that this is France, not the USA or Canada. I will talk about this later.
Bois-le-Roi is another city that might have accommodation, though it is not as popular as Fontainebleau.
There are also alternative housing options such as AirBnB, or French equivalents such as Gîtes de France, or local BnB businesses. These are much cheaper, but with AirBnB, for example, owners may cancel your reservation at the last minute. Actually, in France, hotels may cancel your reservation at any moment as well, and there's not much you can do about it! Though rare, this has happened before to people, so be aware! Generally, reputable chain hotels are less likely to do this, but don't quote me on that! Another thing is that some of these businesses only speak French, or have websites in French only. Good luck!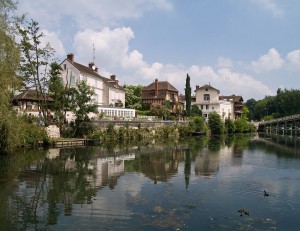 Once you have figured out accommodations, you have to figure out how to get there. If you are from Europe and have the possibility of driving to Samois, then that is great! Things will definitely be easier for you! You can drive to any city in proximity to find accommodations, and you can easily go from place to place. Congratulations! The article ends here for you! A warning for those who are unaware: they have speed radars that clock your speed, so drive within the limit, or you will be hit with a speeding ticket. If you rent a car, the rental company will send you the bill. It also goes without saying that if you do have a car, you should rent or buy a GPS, it'll make things a whole lot easier!
If you are flying in or taking the train there, you still have the option of renting a car. Just remember that in Europe, the vast majority of rental cars are standard transmission. If you need automatic transmission, you're generally only likely to be able to find this at major car rental locations (ie airport). Whether you take the train or plane to get to Samois, your major arrival destination is likely to be Paris. Any of the major train stations in Paris (Gare du Nord, Gare de L'Est, Gare d'Austerlitz, etc.) link the city to other parts of France and/or the rest of Europe.
If you fly in to Paris, you will arrive at Charles de Gaulle (CDG) or Orly (ORY) airports. Luckily, public transportation is very easy from either airport. The RER is the high-speed metro system that connects Paris with the suburbs. It can be used interchangeably with the slower metro system in Paris, as well.
CDG is located on the blue line, RER B, and ORY is on the yellow line, RER C.  I suggest that you bring lots of coins with you because the machines may not accept certain credit cards. Furthermore, it doesn't help that the machines don't accept bills (at least at the time of this article).  Luckily, in major areas, you will always find man-held ticket booths. Since the RER covers many regions (known as zones), the fare changes as you travel from zone to zone, which you will be doing if going to Paris.  The machines do have instructions in English, so make sure that you choose the correct destination. At the ticket booth, you can tell the ticket person that you are going to Paris; you can even tell him/her that you want to go to Paris, Gare de Lyon station.
You will be given an RER ticket, which is interchangeable with the metro in Paris. However, if your destination is Samois, you will only be taking the RER. Do not throw away your RER ticket until you've left the station, as you will need it to exit. If you have bought a ticket that does not cover your zone (Paris), you will not be allowed to exit either! So do make sure to specify the zone, when purchasing!
From the airport, you want to get to the red line, RER A. If you look at a a map of the RER, you may notice that each RER line branches out into other lines, in the outer zones, but you don't have to worry about that, because from both airports, all lines will lead to Paris (provided you took the right direction!).
From CDG, you take the RER B until Châtelet Les Halles. From there, you switch to the RER A, and go one stop east to Gare de Lyon. Again, don't worry which train you take, as long as it's the RER A and it is going east.
From ORY, take RER C until St-Michel Notre Dame, switch to RER B northbound (again, any of the trains) until Châtelet Les Halles. From there it's the same directions as before.
Once you have reached the Gare de Lyon RER station, you want to go to the actual Gare De Lyon train station. You won't have to go outside the building for this, look around for signs.
The train station itself is quite huge, and can be confusing, even for French speakers! There are all sorts of ticket booths around, but the one you are specifically looking for is the ticket booth for Ile-de-France, which is the region where Samois is located. The location of this booth actually changed in recent years, so I won't tell you exactly where it is. In the past, it was the most discrete and smallest booth in a little corner, which certainly didn't help! Look around, or ask someone. If it's the same as 2014, it should be on floor 0 (Niveau 0). The RER station is on floor -2 (Niveau -2), and you will have to go through floor -1 (Niveau -1). Once you find the ticket counter (there are also machines), ask for a train to Fontainebleau, and ask what the final destination is; Fontainebleau will not show up on the big information board, as it is not the last destination. Final destinations may be Laroche-Migennes, Montereau,  Montargis, or Sens.Again, things may change, so be sure to just ask.
The train tracks to Fontainebleau are in an outdoor area, where in the middle, against the wall, there is a fancy looking double staircase. At the top is a restaurant (Le Train Bleu) facing the tracks.  This should be the blue platform (plateforme bleue). There is also an information booth close by, so you can also double check.
Now you play the waiting game; I suggest Candy Crush Saga (be sure to send facebook game invites to everyone). Once it is possible to board the train, make sure to validate the ticket at the machine where the train is located. If for some reason it doesn't work (which has happened before), just explain it to the ticket person (if he/she even passes by). If for some reason, you didn't buy a ticket and were hoping for a free ride, the penalty for getting caught is a bigger fee (or you can tell them the secret password: I know Cosmo Kramer).
It's roughly 40 minutes from Gare de Lyon to the Fontainebleau train station. Once you arrive in Fontainebleau, you will probably want to head to your accommodation. Like I said, Fontainebleau is the biggest city close to Samois, so if your base of operations is in another city hub such as Bois-le-Roi, you'll have to make the necessary adjustments. Nonetheless, Fontainebleau covers a fairly large radius of Samois' vicinities. If you have a mobile phone, it's good to get the numbers of some taxi companies in Fontainebleau; otherwise, they can be very difficult to come by. Even designated taxi stands can be empty for hours. With a mobile phone, you'll be able to call up a cab. In Paris, you can easily get a prepaid sim card with data plan for very cheap. There is also a bus that takes you downtown if that's where you want to go. Again, this information is always subject to change, so be sure to confirm on the Internet.
When the actual festival starts, they have designated shuttle buses from the festival site to the Fontainebleau train station, but that is ONLY during festival hours. In other words, if you arrive on Wednesday morning, the shuttle bus will not be there until the evening when the festival officially starts.  If you're not carrying much, you can also go to downtown Fontainebleau and look for a bike rental place. It is quite affordable, and you can rent a bike for the entire duration of the festival. Keep in mind that stores are not necessarily open on Sundays, and therefore, you would have to return the bike on Monday. If you have a flight to catch, you have to plan around this. It is also possible to rent a car in Fontainebleau, but the same rule applies, you might only be able to return the car on a Monday morning!
The great thing about the bicycle is that it forms a triangle of equal distance between Samois, Samoreau, and downtown Fontainebleau. It's about a 15-20 minute ride from one location to the other. Be warned, however, there are lots of brutal slopes in Fontainebleau (whether leaving, or entering the city!).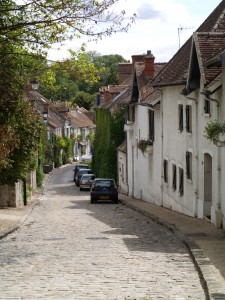 Now remember that thing I said about convenience, and the American/Canadian lifestyle? Those of you from Canada and America are used to a life of incredible luxury whether you know it or not. In most places in Canada or USA, it is very easy to find service when you expect to find it. Not so in France, especially in these tiny remote areas. Businesses may take breaks at unexpected moments, buses might not follow the official schedule, and many businesses are closed on Sundays. You can wait all you want at a designated taxi stand, but a taxi may never even show up.  It's best to have a mobile phone with you to call a taxi. Even then, if it's too late, and the taxi driver doesn't feel like working, well then, you have to find an alternative solution. This is relevant as sometimes you might feel like hanging out at the festival site or campsite until the wee hours of the night. If you end up without a way to get back to your safe house, you better make friends quickly, or sleep in the open.  That's how things work over there; so don't expect the easy American life to which you maybe accustomed. It goes without saying, but don't expect everyone to speak English. It seems like a dumb thing for me to say all this, but I've literally heard this a few times "What do you mean they don't speak English? It's the 21st century, everyone should speak English". I've also heard stories of people walking into a business and exclaiming at the top of their lungs "EXCUSE ME! I'M AMERICAN, I NEED HELP!". Sorry American friends, I don't mean to embarrass you, but these things have happened before, and I just want to explain everything clearly.
The more prepared you are, and the more you understand this, the easier it will be for you. The good news is that there are usually lots of nice people that go to this festival and that might take care of you if you're not an obnoxious idiot.  You might even run into me! I usually don't like to see people in distress, so if I can help you in anyway, I probably will (and have in the past).
That covers a lot of the questions that most people have about the festival. Let us now tie up the loose ends.
Tickets to the festival: should you buy them in advance? You can if you want, you can order them online and pick them up at designated areas. In the past, I was able to buy tickets in advance and pick them up at the FNAC (major retail chain) close to the Châtelet Les Halles  RER station in Paris, but again, don't quote me on that.  You can also pick them up during the festival at the ticket counter, which is located at the entrance to the festival. I've personally never heard of tickets being sold out.
The festival itself is located on a tiny island on the Seine river. This island is connected to the village by 3 bridges. The southern bridge is exclusively for artists/merchants, and the northern bridge is generally for exiting, though in the past, people with special passes were able to get in. I doubt that's you, so you have to enter the festival through the bridge where the ticket counter is located. The name of the island does not appear on Google Maps. It is called L'Ile Du Berceau; it is the tiny island just to the southwest of the bigger island L'Ile aux Barbiers. Yes, that's right! The official festival happens on that tiny island!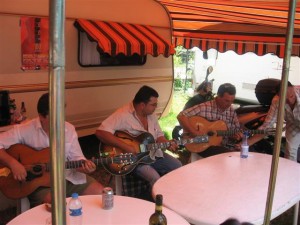 Here's the catch: traditionally, on weekdays (Wednesday until Friday), the general public can only enter the festival site once. If you choose to leave, you cannot get back in without buying another ticket. If there are things you think you need to do, do it beforehand. Definitely go the bathroom before, or face the filthy, overcrowded porta potties. Remember how I said that the festival has seen tremendous growth in attendance? Well you can imagine how it must be on a busy Friday night with 5000 people on a tiny island.
You might want to bring food or snacks as well. Otherwise, you are forced to buy from the festival merchants. It's not so bad, the selection is somewhat varied (and never the same every year), but the prices are expensive.
On weekdays, the festival starts in the evening, before the first concert starts. When the festival ends many hours later the security guards will kick everyone out (it wasn't like this in the past).  If you rely on the shuttle bus, make sure to check the schedule so you can catch the last one, and always plan ahead, unless you like adventure.
On weekends, the festival starts earlier; check the schedule of the first concert and arrive earlier if you want to be one of the first on the island.  You will given a bracelet that allows you to enter and leave the island as you please.
This is a matter of preference, but for me, the cool thing about the festival has always been the jams, not the actual official concerts. On the northern side of the island is the big stage where the concerts happen. Behind the stage, all along the island is where luthiers display their instruments. You can catch lots of cool jams here, and you can also try guitars.  Some people bring their own instruments, and set up their own jams as well.  On one side of the island, are the luthiers / gear vendors, and on the other side, are the food vendors. In between, you will find chairs and tables. On the southern side of the island, are the filthy porta potties. In recent years, they have also set up a tiny stage on the southern end for various musicians to do mini performances. You might end up on that stage, if you are politically connected to the right people.
That, my friends is the actual Samois-sur-Seine Django Reinhardt festival. It takes place on a very tiny island. It has become more and more commercial as the years have gone by, and more and more casual tourists are showing up. This is not a criticism of any kind, but it is what it is. For that reason, many people choose not to go to the island, and instead, hang around the campsites to create their own festival.
In the town of Samois, you can also find jams in the town square during the day. You can go visit Django's grave in the cemetery, but it will be a bit of an uphill journey. You can find his tomb in one of the corners of the cemetery. You can check out his house, which is close to the festival island. During day, they sometimes organize little activities in the town square: little performances, art exhibitions, etc.  Unfortunately, the legendary restaurant/bar Chez Fernand no longer exists. People still hang out there sometimes, but in the past, it was one of the major locations for impromptu jam sessions with the cream of the crop.
Again, in recent years, the festival has seen tremendous change. If you're into checking out jam sessions with some of the top players, it can happen anywhere. It still happens in Samoreau, but it can just as easily happen anywhere else! A car really comes in handy!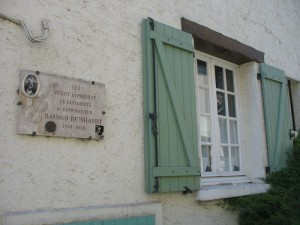 The festival is still the Mecca of all things Django Reinhardt, but a lot of the top players have also been avoiding the festival unless officially invited, so don't assume that EVERYONE goes to the festival every year just to hang out.  I've noticed less and less Gypsy attendance in recent years because of this. In the past, it was their tribute to Django Reinhardt. Now, it's attended by Djangophiles from all over the world, and many casual tourists; they've really taken over the festival. This is NOT a criticism, merely a factual observation. There is nothing wrong with these Djangophiles (I'm one of them!), but a lot of the recent converts to Gypsy Jazz are into a very experimental/progressive approach to the style. All that is totally fine, it is like what newgrass is to bluegrass. However, if you like the old charm of the 60s/70s/80s/90s Gypsy Jazz, I have to admit it's harder and harder to find, as the new wave players have really taken over! Gypsies and older players were generally the keepers of the this style, and if recent years are any indication, there will be less and less Gypsy musicians going to Samois.  Partially as a result of this, in 2012, the Gypsies in Alsace created their own festival called Festival Jazz Manouche in Zillisheim. It happens just before Samois. I have never been as it constantly conflicts with my favourite festival, Django in June, in Northampton, MA, USA. Who knows what the future yields for Samois? I personally would like to see room for everyone!
That, my friends, is Samois; it's a big jungle, you have to create your own schedule. It's like going to New York, you have practically everything at your fingertips but where do you go every night?
One final word of advice, if you are flying out of Paris, plan your flight departure accordingly. Remember, you are in a remote part of France, and service might not be easy to find. Make sure you have a way to easily get to the Fontainebleau train station. If taking the RER to get to CDG or ORY, this time you have to make sure that you take the right train, as they will branch out into different directions. You will have to pay attention to the little screen to know which one to take. It's a good idea to have a map of the RER; the screen capture function on your smartphone is very handy in situations like this!
Keep in mind, things change, so always make sure that the above information is still relevant.
As always, if you enjoyed this article, please check out my site DC Music School www.dc-musicschool.com for lots of cool Gypsy Jazz lessons! Your support allows me to write these articles and produce more cool lessons.