Bireli Lagrene is one of the most accomplished jazz guitarists active today. His career, which started around the age of 10, has included performances with some of the world's top musicians. He has shared the stage with fusion guitarist Larry Coryell, fretless bass pioneer Jaco Pastorius, and accordion virtuoso Richard Galliano. Bireli is a master of numerous styles including bebop, fusion, and swing. He is also a multi instrumentalist with phenomenal skill on guitar (electric and acoustic), electric bass, and drums.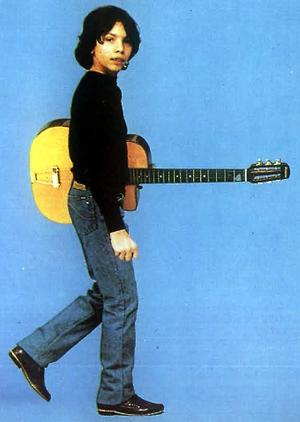 However, Bireli's musical roots lie in the music of Django Reinhardt. Like most Sinti children, he was immersed in Django's music from a very young age. While growing up in the Gypsy camps of the Alsace region of Eastern France, he developed incredible technical and improvisational skill. His talent was quickly recognized, resulting in performances across Europe as a young as age 10.
The following mp3 gives a glimpse into the musical life of Sinti children. Jamming is part of the every day fabric of life in Gypsy camps. There is no set time or place, rather the music just happens all day, and often all night. Sinti, most of whom play at least a little, spend much of their day visiting neighbors. Inevitably the guitars come out and music starts. While many Sinti guitarists do practice seriously, many develop a high level of technique through these informal jams that are a part of the fabric of Sinti life.
On the following mp3 Bireli is jamming on the popular standard I Can't Give You Anything But Love. The rhythm guitarist is most likely his brother and bandmate Gati Lagrene. Take note of the aggressive "German" style rhythm playing favored by Alsatian guitarists.
There is a segment on the new Bireli Lagrene DVD which shows him playing solo guitar around this same age. For more info see: Bireli Lagrene DVD
Also check out Bireli Lagrene's Gypsy Project CDs: Gypsy Project
Enjoy!
-Michael