Hey everyone, I'm selling my 2009 Peter Zwinakis hand built guitar from San Francisco, CA. It's Cuban mahogany and it's got Gotoh tuners. I'm including two bridges and a Seagull gig bag. It's a very modern sounding guitar with a lot of bass and very full sound. The way I've thought of it is that it's an affordable and actually obtainable modern American jazz manouche guitar. It's very easy to play and not a guitar that you have to fight at all, just super comfortable.
I now live in Madrid but am in Paris and the Netherlands a lot so we could meet in person and you can try it first and also not have to pay any shipping! Message me or comment with any questions if you're interested. I've also attached a video playing it to give you an idea of how it sounds.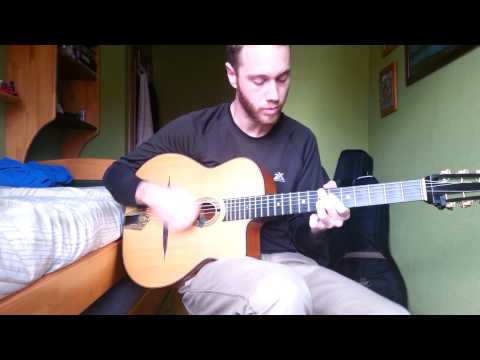 Bonjour à tous, je vends ma guitare faite main par Peter Zwinakis (San Francisco, Californie) en 2009. Elle est en acajou cubain et possède des tuners Gotoh. Je la vends avec deux bridges et un sac de transport Seagull. Elle sonne très moderne, avec beaucoup de basses et un son très plein. C'est un peu une Bob Holo, mais abordable. Elle est très facile à jouer, tout simplement confortable.
J'habite à Madrid en ce moment, mais je suis beaucoup sur Paris et aux Pays-Bas, il est donc possible de se rencontrer pour que vous l'essayiez et ça permet aussi de ne pas avoir de frais de port à payer ! N'hésitez pas à m'envoyer un message si vous avez n'importe quelle question ! Voici aussi une vidéo que j'ai faite pour vous donner une idée de comment elle sonne.