2011 Shopis D'Artagnan Model F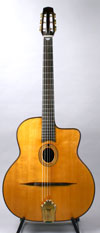 Shopis
Large bodied Favino style model from New York's favorite Selmer style luthier!
Arts & Entertainment > Hobbies & Creative Arts > Musical Instruments > String Instruments > Guitars > Acoustic Guitars
rodrigo-shopis-dartagnan-oval
D'Artagnan Model F
View Offer
DjangoBooks.com
https://www.djangobooks.com/Item/rodrigo-shopis-dartagnan-oval
2011 Shopis D'Artagnan Model F
2011 Shopis D'Artagnan Model F
New York based Rodrigo Shopis has long been known for his deep knowledge of Selmer Maccaferri guitars and his ability to interpret this rich luthiery tradition in new and exciting ways. His innovative designs have caught the attention of many top players, including such luminaries as Samson Schmitt, Dorado Schmitt, and Biel Ballaster.

Rodrigo's guitars are never mere copies of the old French designs, but rather are adaptations of the classic instruments suited to the needs of modern players. This lovely D'Artagnan model is no exception as it seamlessly blends the large bodied Favino design with a unique bracing pattern, producing an instrument which delivers a rich, full bodied tone without the excessive midrange nasalness and challenging playability of older instruments.

This instrument features solid Indian rosewood back and sides, a rare feature as most Selmer style guitars have laminate back and sides. This guitar is outfitted with a handsome set of closed nickel Miller tuners and a nickel tailpiece. This instrument was tastefully decorated with a brass truss rod bore, MOP fret markers, and MOP embellishments on the headstock and zero fret. The wood has been treated with a very lightweight oil finish which is both attractive and acoustically efficient

The tone of this guitar is full bodied, with a tight, clear lowend and nice chimey highs that you wouldn't normally expect from a large bodied design. The sound is also very open and complex, with an interesting wash of harmonics accompanying each note that you play. Projection is excellent, especially for single note lines which have the clarity and definition to cut through the din.

This instrument is in near mint condition. The only signs of wear are a scuff mark on the cutaway and a small ding close to the pickguard. Otherwise, it's indistinguishable from a new guitar.

As an added bonus, this guitar includes a pristine Calton Flight case (A $1000 value!)


This is the CASH price...add 3% (4% for International orders) if you'd like to pay with a credit card.
| | |
| --- | --- |
| Brand | Shopis |
| Year | 2011 |
| Model Number | D'Artagnan Model F |
| Serial Number | 112911 |
| Sound Hole | Oval |
| Fret Neck | 14 Fret |
| Condition | Near Mint |
| Size | 16 1/2" |
| Scale Length | 670mm |
| Nut Width | 1 11/16" |
| Body Depth | 4 1/8" |
| Top | Sitka Spruce |
| Back and Sides | Indian Rosewood (Solid) |
| Neck | Walnut |
| Fingerboard | Ebony |
| Binding | Rosewood |
| Finish | Oil |
| Tailpiece | Gold |
| Tuners | Miller Closed Brass |
| Action | 3.2mm |
| Strings | Argentine 1510MF |
| Case | Calton Flight Case |
| Pickup(s) | None |
| Truss Rod | Yes |
| Weight | 4.4 lbs |
The original "Wegen" Gypsy Guitar pick. 3.5mm thick, 30mm long, 26mm wide.
The original Gypsy jazz strings! Used by Django Reinhard and nearly every other Gypsy guitarist.
Vintage Django tone for Selmer/Maccaferri D hole guitars.
Software: Kryptronic eCommerce, Copyright 1999-2020 Kryptronic, Inc. Exec Time: 0.096358 Seconds Memory Usage: 4.460426 Megabytes