2021 Dupont Nomade D Hole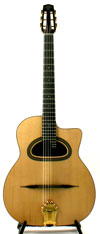 Dupont
Handmade in Cognac France by the world's best Selmer builder and the price can't be beat!
Arts & Entertainment > Hobbies & Creative Arts > Musical Instruments > String Instruments > Guitars > Acoustic Guitars
dupont-nomade-2021-d-2
Nomade
4.9
7
Rick
I have now had my Nomade for one month. Before receiving my Dupont I was concerned on its ease of playing and its versatility. I wanted a guitar true to the gypsy jazz tradition but that would be fine for other genres. No problem there. Within minutes the guitar felt at home in my hands. The body shape, neck, frets, action and quality were all spot on. Open strings really stand out, great for chord melodies, and the Nomade is good for finger picking too. Love this guitar and it has inspi...
Scott P.
I contacted Michael to seek a recommendation for a less expensive "backup" for my Barault oval hole, and he suggested the Nomade. Wow- what a guitar! it has a fast neck, a BIG sound, and, although simply appointed, is a very attractive, well-built instrument. The woods used are high quality, and the build is smooth and precise. The best part is the tone. I am quite pleased with this purchase.
Rolan
Naturally, Michael was more then helpful throughout my search for a guitar. I asked lotssssssss of questions about the difference between high end Asian guitars vs low priced European builds and I am very pleased to have chosen the later under Michael's guidance. I love the Dupont. It has a great balanced tone, a lot of bite, and is quite dry. I also asked endless questions about different amp/pickup combinations, strings, pics .... enough questions to turn most salespeople away, yet Michael...
Greg
I just received my new Dupont Nomade D Hole today and couldn't be happier with the purchase. I have a Paris Swing 42 (which sounds pretty good and plays fairly well), however the Dupont is a totally different class of guitar. The sound and playability far surpasses that of the Paris Swing (in my opinion). The bolt on neck was a concern, but is a non-issue after playing the instrument. For the money, the Dupont Nomade seems to be a good choice.
Randy
I purchased my Nomade O-hole in 2011. It has served me well over the years, and has held up despite being subjected to fluctuations in both temperature and humidity. The tone is what you would expect from a Dupont. The woods are well cured, the hardware is no frills but high quality, the build is first rate. This year, after trying a few Asian guitars, my wife finally purchased the Nomade D-hole. She is glad she did. The Nomade may be considered an "entry" level guitar, but in my opinion thes...
Astub37
I couldn't be happier with this guitar! It has amazing sound and playability for the price! I have taken it to many jams and performances and always gotten positive feedback from others who have played it as well. It is the real deal.
Lou
My Du Pont Nomad is a decent guitar. The action is decent; the sound is decent; and the appearance is decent. By decent, I mean that a veteran guitarist who knows his way around the instrument could find a lot to be pleased with in the Du Pont Nomad. Under 2K, the guitar is a definite good buy. The workmanship is professional grade. You don't need to take it to a luthier when you get it. Mine played just fine out of the box. You can dig in and get a full resounding response from the Nomad. You c...
View Offer
DjangoBooks.com
https://www.djangobooks.com/Item/dupont-nomade-2021-d-2
Software: Kryptronic eCommerce, Copyright 1999-2023 Kryptronic, Inc. Exec Time: 0.038902 Seconds Memory Usage: 1.452782 Megabytes