2013 ALD La Macassar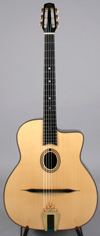 ALD
Stunning macassar ebony guitar from Gerald Alonso and Fabian Le Dosseur.
Arts & Entertainment
ald-grand-bouche-macassar-4
La Macassar
View Offer
DjangoBooks.com
https://www.djangobooks.com/Item/ald-grand-bouche-macassar-4
2013 ALD La Macassar
2013 ALD La Macassar
A superior Gypsy guitar built by Gerald Alonso and Fabian Le Dosseur in Rouen, France. ALD guitars are all the rage in Europe now, and are currently endorsed by Angelo Debarre. The distinct and beautiful tone of ALD guitars can be heard on Debarre's recent recordings such as Gipsy Unity, Live in Paris, and Trio Tout A Cordes.

ALD's have a unique and easily distinguishable tonal palette that is open, complex, and bold. This instrument is well suited to the needs of the contemporary Gypsy jazz guitarist as it has a well balanced frequency response, plentiful volume, and a modern neck profile. The precision fretwork and neck geometry allow for an easy-playing low action setup that is critical for today's highly technical style of playing. The workmanship is phenomenal, with every little detail done to perfection, making this instrument a treat both for the eye and the ear.

The Macassar model features standard Selmer body proportions with deluxe wood choices: spruce top, sycamore neck, and stunning Macassar ebony back and sides. The beauty of this instrument is accentuated by the ebony headstock veneer which appears on both the front and back of the headstock, a unique and attractive feature! Additionally, the guitar is outfitted with Schaller Classic Deluxe tuners and a lacquered interior.

This instrument is perfect for someone who is looking for the modern, balanced tone you hear on many of Angelo Debarre's recent recordings. If played lightly, it can sound light and sweet, but when played ponticello it will bark like the Gypsy guitars of yore. An all around Gypsy powerhouse with the looks and sound to the steal the show every time!

This is the CASH price...add 3% (4% for International orders) if you'd like to pay with a credit card.

| | |
| --- | --- |
| Brand | ALD |
| Year | 2013 |
| Model Number | La Macassar |
| Serial Number | 292 |
| Sound Hole | Oval |
| Fret Neck | 14 Fret |
| Condition | New |
| Size | 15 3/4" |
| Scale Length | 670mm |
| Nut Width | 1 3/4" |
| Body Depth | 3 15/16"" |
| Top | Spruce |
| Back and Sides | Macassar Ebony |
| Neck | Sycamore |
| Fingerboard | Ebony |
| Binding | Ebony |
| Finish | Nitrocellulose |
| Tailpiece | DR Gold |
| Tuners | Schaller Classic Deluxe |
| Action | 2.8mm |
| Strings | Argentine 1510MF |
| Case | Stagg Softshell Black |
| Pickup(s) | None |
| Truss Rod | Yes |
| Weight | 4.3 lbs |
The original "Wegen" Gypsy Guitar pick. 3.5mm thick, 30mm long, 26mm wide.
The original Gypsy jazz strings! Used by Django Reinhard and nearly every other Gypsy guitarist.
Vintage Django tone for Selmer/Maccaferri D hole guitars.
Software: Kryptronic eCommerce, Copyright 1999-2022 Kryptronic, Inc. Exec Time: 0.089429 Seconds Memory Usage: 4.622772 Megabytes