Vladimir Muzic Triator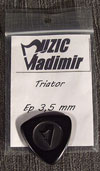 Vladimir Muzic
Ultra warm sounding pick, hand made in France!
Arts & Entertainment > Musical Instrument Accessories > String Instrument Accessories >
vladimir-muzic-triator
Triator
32.00
DjangoBooks.com
https://www.djangobooks.com/Item/vladimir-muzic-triator
Vladimir Muzic Triator
Vladimir Muzic Triator
Handmade in France by noted luthier Vladimir Muzic. Unusually warm sounding, yielding a beautiful tone from even the brashest of instruments. The bevel is exceptionally well cut and the thumb indentation allows the pick to be held with little effort. Triangular shape. 3.5mm thick.
Software: Kryptronic eCommerce, Copyright 1999-2023 Kryptronic, Inc. Exec Time: 0.076735 Seconds Memory Usage: 1.871399 Megabytes