2011 Van Spronssen Selmer ***NEW PRICE***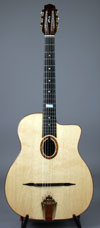 Van Spronssen
Stunning Dutch made guitar with gorgeous AAA bear claw top. Handmade for under $2K, best buy!
Arts & Entertainment > Hobbies & Creative Arts > Musical Instruments > String Instruments > Guitars > Acoustic Guitars
van-spronssen-oval
Oval Hole
View Offer
DjangoBooks.com
https://www.djangobooks.com/Item/van-spronssen-oval
2011 Van Spronssen Selmer ***NEW PRICE***
2011 Van Spronssen Selmer ***NEW PRICE***
This very beautiful instrument was made by the Dutch luthier Arie van Spronssen. Fashioned from deluxe woods and fitted with the best hardware, this guitar is comparable to the top of the line models by lutheirs like Dupont and Dell'Arte that cost two or three times more. Rarely is such a finely made, European built guitar available in this price range.

The most striking feature of this guitar is it's AAA bear claw spruce top. I've never seen such a highly figured example! The back and sides are Indian rosewood and the neck is walnut, with a mahogany spline. The expertly applied French polish finish really allows one to appreciate natural beauty of the wood.. Additional ornamentation includes a quilted mahogany tailpiece insert, heel cap, and rossette as well as MOP headstock and fingerboard inlays which add to the beauty and elegance of this finely made instrument. Also included are a smart looking set of Schaller Classic Deluxe tuners.

The guitar is Selmer copy with a slightly slimmer 15 1/2" lower bout which will appeal to players of smaller stature.

The tone is very traditional, with crisp highs and a nice open resonance. Bass notes are tight and controlled and the midrange nicely complex and satisfying. This guitar is quite loud and can easily compete with the best Duponts. The very light French polish finish is at least part of the reason this guitar is so resonate and toneful at such a young age.

This guitar is in mint condition with very little playing time on it. There is a bit of light pick wear around the soundhole as well some very light wear on the first few frets. Otherwise, completely clean.It's a dream come true for anyone looking for a fine handmade guitar in the sub $3K range!

This is the CASH price...add 3% if you'd like to pay with a credit card. 4% for International orders.
| | |
| --- | --- |
| Brand | Van Spronssen |
| Year | 2011 |
| Model Number | Oval Hole |
| Serial Number | None |
| Sound Hole | Oval |
| Fret Neck | 13 Fret |
| Condition | Mint |
| Size | 15 1/2" |
| Scale Length | 670mm |
| Nut Width | 1 3/4" |
| Top | European Spruce |
| Back and Sides | Indian Rosewood |
| Neck | Walnut with mahogany spline |
| Fingerboard | Indian Rosewood |
| Binding | Mahogany |
| Finish | French Polish |
| Tailpiece | Saga with Insert |
| Tuners | Schaller Classic Deluxe (Gold) |
| Action | 2.6mm |
| Strings | Argentine 1510 |
| Case | Hiscox Hardshell |
| Pickup(s) | None |
| Truss Rod | Yes |
| Weight | 4.1 |
The original "Wegen" Gypsy Guitar pick. 3.5mm thick, 30mm long, 26mm wide.
The original Gypsy jazz strings! Used by Django Reinhard and nearly every other Gypsy guitarist.
Vintage Django tone for Selmer/Maccaferri oval hole guitars.
Software: Kryptronic eCommerce, Copyright 1999-2020 Kryptronic, Inc. Exec Time: 0.078759 Seconds Memory Usage: 4.45491 Megabytes