Timber Tones Macassar Ebony Pack of 4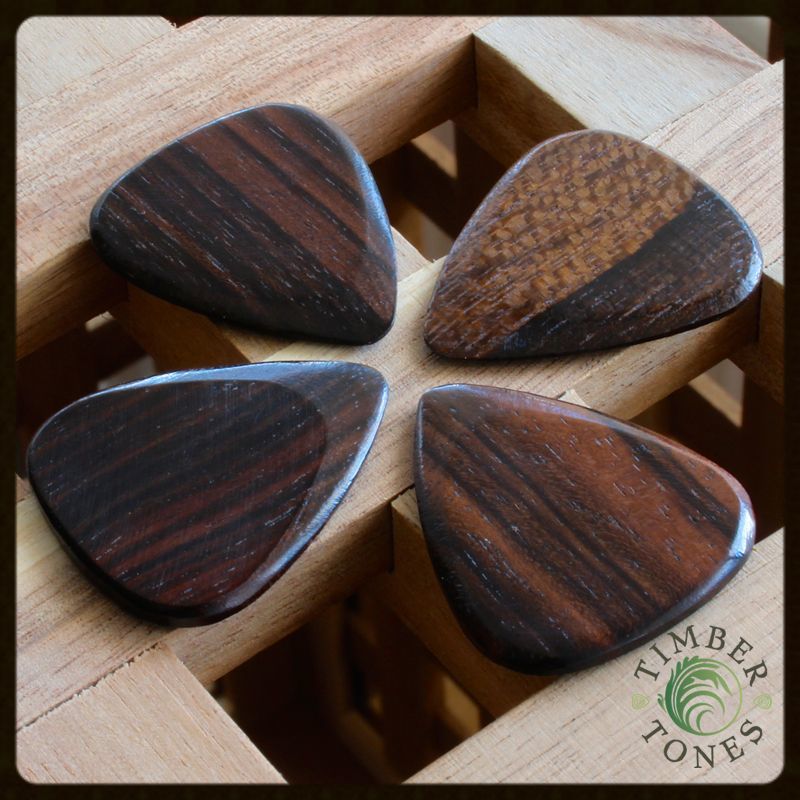 Timber Tones
All natural picks from the UK!
Arts & Entertainment > Musical Instrument Accessories > String Instrument Accessories >
timber-tones-macassar-ebony
TTME4
20.00
DjangoBooks.com
https://www.djangobooks.com/Item/timber-tones-macassar-ebony
Timber Tones Macassar Ebony Pack of 4
Timber Tones Macassar Ebony Pack of 4
MATERIAL: MACASSAR EBONY

SUITABLE FOR: We recommend Macassar Ebony for Electric Guitar.

TONE: We recommend this timber primarily for Electric Guitar where it will give a clean crisp tone. It can be used on Acoustic Guitar where it will add some brightness.

DESIGN DETAILS: Macassar Ebony is one of the hardest timbers that we use with a Janka Hardness of 3220. Although it is very similar in hardness to African Ebony, it has a far more open grain, which gives it slightly more grip. They are CNC Milled from the very best quality timber then hand sanded and hand polished to give them their amazing shine and smoothness. Timber Tones unique shape is roughly based upon the classic 351 design, however they are 2.4mm thick where you hold them, chamfering down to 0.7mm at the playing tip.

CONTENTS: This pack contains 4 Macassar Ebony Timber Tones Guitar Picks.

NOTES: Although we have tried to ensure that our photos represent the Guitar Pick that you will receive, there is a high level of variety in our picks due to the nature of many of our natural materials.

Software: Kryptronic eCommerce, Copyright 1999-2019 Kryptronic, Inc. Exec Time: 0.112458 Seconds Memory Usage: 4.542023 Megabytes