2016 Hahl Gitano de Luxe Special ***NEW PRICE!!!***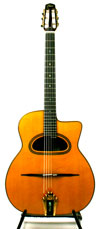 Hahl
The ultimate modern Gypsy guitar, handmade by Germany's best!
Arts & Entertainment
stefan-hahl-gitano-de-luxe-sepcial
Gitano de Luxe Special
View Offer
DjangoBooks.com
https://www.djangobooks.com/Item/stefan-hahl-gitano-de-luxe-sepcial
2016 Hahl Gitano de Luxe Special ***NEW PRICE!!!***
2016 Hahl Gitano de Luxe Special ***NEW PRICE!!!***
This new Gitano de Luxe Special oval hole by Stefan Hahl represents the ultimate in contemporary Selmer guitar design. Most builders today obsessively try to replicate the design and building techniques of "golden era" guitars like the original Selmers, Busatos, and later Favinos. Hahl has dared to be different by using the Selmer design, which he has studied extensively, as a starting point for something new and unique. His guitars characteristically combine the complexity, warmth, and listenability of archtops and flatops with the punch and clarity of Selmers. The real genius of his work is that he has succeeded in making a contemporary, sophisticated sounding Gypsy guitar without loosing the essence of the Selmer sound. Others have tried to make such a guitar, but the end result is that warmth and complexity are traded for clarity and punch, which results in a very muted and dull sounding guitar. Not so with Hahl. His guitars produce notes with a rounded, satisfying tone but are still springy enough to shoot out of the instrument in volume challenged situations.

Hahl's work has been well received by the very finest Gypsy guitarists today. Most notably, by Bireli Lagrene who owns three Hahl guitars and has used them on most of his recent recordings. check out: Move, Just the Way You Are, To Bi or Not to Bi, and Live in Paris.

Gypsy legends Dorado Schmitt and Hono Winterstein also play Hahl guitars.


This is the CASH price...add 3% if you'd like to pay with a credit card. 4% for International orders.



| | |
| --- | --- |
| Brand | Hahl |
| Year | 2016 |
| Model Number | Gitano de Luxe Special |
| Serial Number | 23016288 |
| Sound Hole | D Hole |
| Fret Neck | 14 Fret |
| Condition | Mint |
| Size | 15 7/8" |
| Scale Length | 650mm |
| Nut Width | 1 3/4" |
| Top | Spruce (60 Year aged) |
| Back and Sides | Santos Rosewood |
| Neck | Mahogany with Walnut Spline |
| Fingerboard | Ebony |
| Binding | Ebony |
| Finish | Nitrocellulose |
| Tailpiece | DR Gold |
| Tuners | Schaller three on a plate (Gold) |
| Action | 3mm |
| Strings | Argentine 1510MF |
| Case | Superior Deluxe |
| Pickup(s) | None |
| Truss Rod | Yes |
| Weight | 4.3 lbs |
Software: Kryptronic eCommerce, Copyright 1999-2019 Kryptronic, Inc. Exec Time: 0.100854 Seconds Memory Usage: 4.512871 Megabytes