1950s Sonora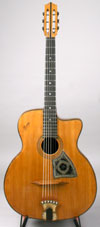 Sonora
Highly ornate Sicilian made classic with vintage tone for less.
Arts & Entertainment
sonora-roundhole
Roundhole
View Offer
DjangoBooks.com
https://www.djangobooks.com/Item/sonora-roundhole
1950s Sonora
1950s Sonora
A very rare Sonora roundhole probably made some time in the 50s. The Sonora guitars appear to have come from the Franco-Sicilian luthiery tradition that includes Busato, DiMauro, Catania, Bucolo, Oliveri, etc. The Sonoras may have actually been built under contract by Catania (for more info see: Carmelo Catania). This guitar shares many of the features often found on Busatos and other guitars of Sicilian origin: an arched back, a three piece neck, an ornate pickguard, and the "Marque au Fer" on the top.
The body is 16 1/4" wide, 3 3/8" deep. The scale is very short at 635mm. The top is pine and is supported by three top braces. The Cuban mahogany back is highly arched and braceless, with the sides being constructed from the same wood. The beech neck is reinforced with an ebony spline. The original tailpiece is a one-of-a-kind, constructed from stylish brazed brass with decorative welds and a rosewood insert. The pickguard is similarly festive, featuring engraved folk-art designs reminiscent of what you find on Busato's more embellished models.

Soundwise this guitar is a treasure! It has the old world mojo and refinement that only decades of maturity bring. It's overwhelming characteristic is its strong midrange focus which produces thick sounding leads and compact, poignant sounding chords. As a rhythm guitar it's quite exceptional and provides a very different, yet equally satisfying, la pompe than that of typical oval or D hole guitars. I particularly like playing Django's unaccompanied solo pieces on this guitar. The complex tonal character of this instrument lends itself well to solitary expression.

Sonora guitars have gained recent notoriety in the hands of legendary Gypsy rhythm guitarist Hono Winterstein. He used a Sonora on the famous Live Jazz a Vienne DVD.

This instrument is very well preserved. It has one top crack that runs from the tailpiece to the soundhole that has been cleated and is stable. The fingerboard was recently replaced and the frets are new. It plays easily and is ready for professional use.

This is the CASH price...add 3% if you'd like to pay with a credit card. 4% for International orders.

| | |
| --- | --- |
| Brand | Sonora |
| Year | 1950s |
| Model Number | Roundhole |
| Serial Number | None |
| Sound Hole | Roundhole |
| Fret Neck | 12 Fret |
| Condition | Very Good |
| Size | 16 1/4" |
| Scale Length | 635mm |
| Nut Width | 1 5/8" |
| Body Depth | 3 3/8" |
| Top | Pine |
| Back and Sides | Mahogany |
| Neck | Beech with Ebony Spline |
| Fingerboard | Ebony |
| Binding | Ebony |
| Finish | Vintage |
| Tailpiece | Sonora |
| Tuners | 3 on a plate |
| Action | 3.2mm |
| Strings | Argentine 1610 |
| Case | TKL Hardshell |
| Pickup(s) | None |
| Truss Rod | None |
| Weight | 3.4 lbs |
Software: Kryptronic eCommerce, Copyright 1999-2020 Kryptronic, Inc. Exec Time: 0.07327 Seconds Memory Usage: 4.511269 Megabytes