2004 Shelley Park Elan 12 Fret D Hole Guitar with Maple Back and Sides (Serial #134) with HSC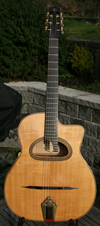 Default Manufacturer
2004 Shelley Park Elan 12 Fret D Hole Guitar with Maple Back and Sides (Serial #134) with HSC
Arts & Entertainment
shelley-park-2004-elan-12-fret
9931
View Offer
DjangoBooks.com
https://www.djangobooks.com/Item/shelley-park-2004-elan-12-fret
2004 Shelley Park Elan 12 Fret D Hole Guitar with Maple Back and Sides (Serial #134) with HSC
2004 Shelley Park Elan 12 Fret D Hole Guitar with Maple Back and Sides (Serial #134) with HSC
Shelley Park needs no introduction. Over the past decade she has earned a reputation as one of the top makers of Selmer style guitars. Her guitars are known for their impeccable workmanship, aesthetic beauty,and warm satisfying tone. This guitar is no exception.

The Elan model features a short 640mm scale, 15 3/4 " lower bout, and a 4" body depth. The top is spruce, the back and sides are made of Maple. The neck is made of mahogany.

This guitar is in excellent condition. It has some subtle pick wear on the top.

This is the CASH price...add 3% if you'd like to pay with a credit card. 4% for International orders.
Software: Kryptronic eCommerce, Copyright 1999-2023 Kryptronic, Inc. Exec Time: 0.03819 Seconds Memory Usage: 1.417854 Megabytes