This guitar is nothing short of a dream come true! A 2018 Selmer transitional model guitar built with meticulous adherence to the original 1930s models. No detail was overlooked in the construction of this guitar. Hardware, label, headstock logo, woods, bracing, binding, etc are all indistinguishable from the originals. The guitar features Indian rosewood back and sides, spruce top, and a walnut neck. As you'd expect, the top was constructed using the heat bending method originally employed by Selmer (most Gypsy guitars today have force bent tops which results in a different type of bend and sound.) This guitar was also skillfully antiqued to give it the look and feel of 1930s era Selmer.

Jean is no newcomer to building exacting replicas of Selmer guitars. In honor of Django's 100th birthday (January 23, 2010) the Selmer corporation had the idea to reissue 10 more Selmer guitars. They approached one of the most accomplished luthiers in France and had him build two prototypes. The first one, #881, is now owned by Bireli Lagrene. The second prototype (#943) was sold by us years ago. Jean also built a Selmer Maccaferri Replica for the 2017 film Django which we sold this year.

Selmer was very impressed with these replicas but in the end decided it was too much trouble to get back into the guitar business after all these years.

This rare model is based on the transitional model Selmers built in the years around 1934-1935. These models were experiments that blended features of the previous grand bouche Maccaferri design with what would eventually become the later petite bouche model. Django used this model in the legendary J'Attendrei video. There are numerous photos of Django holding this model in the mid to late 1930s.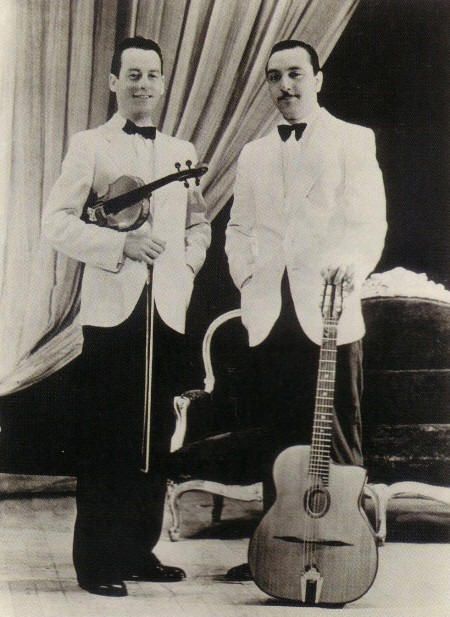 Jean made just three of these special transitional model Selmers. One is owned by Stochelo Rosenberg, another by Bireli Lagrene (who played his transitional model at the Samois festival this year), and this one for sale which is the remaining one. So owning this guitar puts you in a very exclusive club!
The specs of this instrument are identical to the typical petite bouche Selmer design, with the exception of the stylish fingerboard extension and the four brace top (many Selmers from this period had four braced tops instead of the usual five, including Django's famous Selmer #503.) The spec include a 15 7/8" body, a 670mm scale, and a 3 7/8" body depth. Just like the originals, this guitar is impossibly light, weighing just 3.75 lbs.
We've had quite a few of Jean's guitars here over the years, both regular models and Selmer replicas, and I can confidently say that this one is a real standout. The tone is very warm and mature, like finely aged Scotch, yet it retains the impressive power and projection that is normally only reserved for brighter, harsher sounding instruments. Barault seemed to do the impossible, he made a new guitar sound old! Even previous replicas from him didn't share the unique and inspiring tonal profile of this instrument. If you're looking for the warm, yet powerful sound you hear on Django's classic recordings, you won't be disappointed. There's no doubt, for the Django purist, this instrument will certainly be love at first
pompe
!

Here's a chance to own a piece of history at the fraction of the price that vintage Selmers go for! With vintage Selmers fetching prices around $50K, this meticulous replica offers the opportunity to own something with some old world charm for far less than the originals.

This is the CASH price...add 3% if you'd like to pay with a credit card. Add 4% for international credit card orders.