1952 Selmer Petite Bouche #872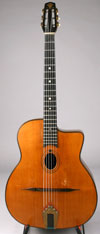 Selmer
Late model Selmer in astounding condition!
Arts & Entertainment > Hobbies & Creative Arts > Musical Instruments > String Instruments > Guitars > Acoustic Guitars
selmer-872
Modele Jazz
View Offer
DjangoBooks.com
https://www.djangobooks.com/Item/selmer-872
1952 Selmer Petite Bouche #872
1952 Selmer Petite Bouche #872
This is it, the guitar that started it all! Vintage Selmer guitars have been studied for decades by the best luthiers in the world, but one has yet to create a guitar with the tonal refinement and projection of a vintage one such as this. Only the perfect mix of old world luthiery, select woods, and over fifty years of age can yield the astounding tone and projection that this instrument posses.

This one is really a dream come true as it has everything you could ever want in a vintage Selmer: Pristine condition, outstanding tone and projection, and the easy playability you'd expect of a contemporary instrument. I have never seen such a well preserved example, even the bridge looks original!

The midrange growl and complex tonal color this instrument produces rank it among the best Selmers I've ever come across. While this guitar doesn't posses the bass you'd expect of larger bodied Favino or Busato guitars, it does produce a midrange that is rich, full, and gutsy. Every note has a distinct personality all it's own and chords swirl with ever-changing tonal hues that transform anything you play into a sonic painting of sublime beauty. Needless to say, this guitar is very tough to put down!

The hardware is all original and in excellent condition. This is one of the rare late models with a solid rosewood neck and Brazilian back and sides. There are three cracks running from the bridge to the tailpiece that were fairly superficial and repaired with glue. There is also a small crack between the soundhole and the fingerboard that was cleated. A very small nail was driven into the side of the guitar on the bass side around the waist. It's tiny and can barely be seen from the outside. I assume it was used to attach some sort of pickup at some point.

This is a wonderful opportunity to own a Selmer guitar that is exemplary in both its condition and sound. A once in a decade, perhaps once in a lifetime opportunity!

This is the CASH price...add 3% if you'd like to pay with a credit card. Add 4% for international credit card orders.


| | |
| --- | --- |
| Brand | Selmer |
| Year | 1952 |
| Model Number | Modele Jazz |
| Serial Number | 872 |
| Sound Hole | Oval |
| Fret Neck | 14 Fret |
| Condition | Excellent |
| Size | 15 3/4" |
| Scale Length | 670mm |
| Nut Width | 1 3/4" |
| Body Depth | 3 7/8" |
| Top | European Spruce |
| Back and Sides | Brazilian Rosewood (Laminate) |
| Neck | Brazilian Rosewood |
| Fingerboard | Ebony |
| Binding | Rosewood |
| Finish | Nitrocellulose |
| Tailpiece | Selmer |
| Tuners | Selmer |
| Action | 2.6mm |
| Strings | Argentine 1510 |
| Case | Superior Deluxe |
| Pickup(s) | None |
| Truss Rod | No |
| Weight | 4.35 lbs |
The original "Wegen" Gypsy Guitar pick. 3.5mm thick, 30mm long, 26mm wide.
The original Gypsy jazz strings! Used by Django Reinhard and nearly every other Gypsy guitarist.
Vintage Django tone for Selmer/Maccaferri oval hole guitars.
Software: Kryptronic eCommerce, Copyright 1999-2019 Kryptronic, Inc. Exec Time: 0.162584 Seconds Memory Usage: 4.61631 Megabytes