1951 Selmer Petite Bouche #862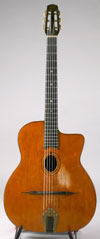 Selmer
Late model Selmer in astounding condition!
Arts & Entertainment > Hobbies & Creative Arts > Musical Instruments > String Instruments > Guitars > Acoustic Guitars
selmer-862
Modele Jazz
View Offer
DjangoBooks.com
https://www.djangobooks.com/Item/selmer-862
1951 Selmer Petite Bouche #862
1951 Selmer Petite Bouche #862
This is it, the guitar that started it all! Vintage Selmer guitars have been studied for decades by the best luthiers in the world, but one has yet to create a guitar with the tonal refinement and projection of a vintage one such as this. Only the perfect mix of old world luthiery, select woods, and over fifty years of age can yield the astounding tone and projection that this instrument posses.

This one is really a dream come true as it has everything you could ever want in a vintage Selmer: Pristine condition, outstanding tone and projection, and the easy playability you'd expect of a contemporary instrument. As you can see from the videos, this guitar has had the good fortune to have been in the hands of many of today's top players. Stephane Wrembel, Benoit Convert, and Adrien Moignard have all unanimously proclaimed Selmer 862 as one of the best they've ever played! There's no doubt, this one is special....

The midrange growl and complex tonal color this instrument produces rank it among the best Selmers I've ever come across. While this guitar doesn't posses the bass you'd expect of larger bodied Favino or Busato guitars, it does produce a midrange that is rich, full, and gutsy. Every note has a distinct personality all it's own and chords swirl with ever-changing tonal hues that transform anything you play into a sonic painting of sublime beauty. Needless to say, this guitar is very tough to put down! It projects remarkably well and the high end is chimey and smooth, with just enough sizzle to make your leads sing.

The hardware is all original and in excellent condition. This is one of the rare late models with a solid rosewood neck and rosewood back and sides.

The top has several small wood splines that were used to fill screw holes that were probably the result of a previous pickup and/or pickguard instillation. The restoration was done cleanly and professionally and is barely noticeable. There are a few small cleats that seem to be reinforcing a few of the splines. Additionally, part of the rosette has a small crack that was stabilized with a wood patch underneath. There is hairline crack in the heel which is completely closed and stable.

This instrument was lovingly restored, and as a result it has the playability you'd expect of some of the finest new guitars. With action set at a super smooth 2.6mm, the neck just melts in your hands.! Even the most challenging runs and finger busting chord shapes are executed with ease. Simply a joy to play!

This is a wonderful opportunity to own a Selmer guitar that is exemplary in both its condition and sound. A once in a decade, perhaps once in a lifetime opportunity!

This is the CASH price...add 3% if you'd like to pay with a credit card. Add 4% for international credit card orders.




| | |
| --- | --- |
| Brand | Selmer |
| Year | 1951 |
| Model Number | Modele Jazz |
| Serial Number | 862 |
| Sound Hole | Oval |
| Fret Neck | 14 Fret |
| Condition | Excellent |
| Size | 15 3/4" |
| Scale Length | 670mm |
| Nut Width | 1 3/4" |
| Body Depth | 3 7/8" |
| Top | European Spruce |
| Back and Sides | Indian Rosewood |
| Neck | Brazilian Rosewood |
| Fingerboard | Ebony |
| Binding | Rosewood |
| Finish | Nitrocellulose |
| Tailpiece | Selmer |
| Tuners | Selmer |
| Action | 2.6mm |
| Strings | Argentine 1510 |
| Case | Superior Deluxe |
| Pickup(s) | None |
| Truss Rod | No |
| Weight | 4.5 lbs |
The original "Wegen" Gypsy Guitar pick. 3.5mm thick, 30mm long, 26mm wide.
The original Gypsy jazz strings! Used by Django Reinhard and nearly every other Gypsy guitarist.
Vintage Django tone for Selmer/Maccaferri oval hole guitars.
Software: Kryptronic eCommerce, Copyright 1999-2020 Kryptronic, Inc. Exec Time: 0.084319 Seconds Memory Usage: 4.629677 Megabytes