1941 Selmer #520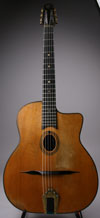 Selmer
Ultra-rare, 4 brace, pre-war Selmer with THE Django tone like none other!
Arts & Entertainment
selmer-520
Guitare Jazz
View Offer
DjangoBooks.com
https://www.djangobooks.com/Item/selmer-520
1941 Selmer #520
1941 Selmer #520
It is always a special day when we get a vintage Selmer guitar in at DjangoBooks, but this is much more than any Selmer. This example from 1941 is one of the very, very rare and much coveted four brace Selmers from the mythical 500 series which includes Django's #503 and Stochelo Rosenberg's #504. Very few pre-war Selmers of any kind have survived, much less ones with a serial number in the low 500s which are considered by players and collectors alike as the best sounding Gypsy guitars ever made. Additionally, a handful of guitars from this era were made with four braces instead of the usual five. Django's famous Selmer #503 was one of these unusual four brace guitars and that is the sound that he made legendary on hundreds of recordings throughout his career. Selmer #520 is the closest surviving example to Django's own guitar in both sound and construction. For those looking for the beautiful and elusive sound from Django's records, it's doesn't get better than this!

Selmer #520 is one of the very rare guitars made with solid mahogany back and sides (like all the others the neck is walnut and the top is spruce). All the hardware is original and in good condition. Another interesting feature of this wartime guitar is that it has a Spanish heel (the neck block has a "foot")...maybe an experiment or they could have just been using some leftover parts from their classicals.

This guitar is rumored to have been used by Django Reinhardt himself for several engagements in Normandy.
There are a number of professionally repaired cracks on the back and sides, including one that runs a long most of the left side of the back. There are no cracks on the top.

This guitar was recently setup by NY based luthier Rodrigo Shopis. It has been fitted with a compensated bridge, 11 gauge strings, and 2.6mm action. It plays very easily and is in fact easier to play to then most new guitars. Really easy on the hands and a joy to play.

I can't really say enough about the tone of this guitar! In over a decade of dealing in Gypsy guitars I have never come across an instrument that has the elusive "Django tone" as much as this one. It has all the right characteristics: thick, rounded highs; a deep, tight bass register; beautiful complex mids; and that certain je ne sais quoi that just screams DJANGO! Many guitars come and go here but this one I certainly will never forget.

As an added bonus, this guitar comes with TWO cases. The original Pegamoid case which is extremely rare as most Selmer guitars were sold without cases. Additionally, a custom fitted carbon-fiber Hoffee case ($1000 value) was specially made for this instrument. It includes it's own hydration system and will protect the guitar from the worst conceivable impacts.

This is the CASH price...add 3% if you'd like to pay with a credit card. Add 4% for international credit card orders.

| | |
| --- | --- |
| Brand | Selmer |
| Year | 1941 |
| Model Number | Guitare Jazz |
| Serial Number | 520 |
| Sound Hole | Oval |
| Fret Neck | 14 Fret |
| Condition | Very Good |
| Size | 15 3/4" |
| Scale Length | 670mm |
| Nut Width | 1 7/8" |
| Top | Carpathian Spruce |
| Back and Sides | Mahogany (Solid) |
| Neck | Walnut |
| Fingerboard | Ebony |
| Binding | Ebony |
| Finish | Nitrocellulose |
| Tailpiece | Selmer |
| Tuners | Selmer |
| Action | 2.6mm |
| Strings | GHS |
| Case | Pegamoid and Hoffee |
| Pickup(s) | None |
| Truss Rod | None |
| Weight | 3.5 lbs |
Software: Kryptronic eCommerce, Copyright 1999-2022 Kryptronic, Inc. Exec Time: 0.078778 Seconds Memory Usage: 4.522324 Megabytes