Schertler A-DYN Mic Acoustic Instrument Pickup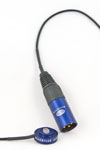 Schertler
The Schertler A-DYN pickup delivers clear, microphone like quality for any instrument.
Arts & Entertainment > Musical Instrument Accessories > String Instrument Accessories
schertler-a-dyn-mic
A-DYN Mic
959.99
DjangoBooks.com
https://www.djangobooks.com/Item/schertler-a-dyn-mic
Schertler A-DYN Mic Acoustic Instrument Pickup
Schertler A-DYN Mic Acoustic Instrument Pickup
The A-DYN is a low impedance transducer that can be connected to any mixing board in a microphone input. Based on the DYN-Technology, we consider it as the best contact microphone ever conceived by us. The A-Class electronics guarantee a high quality signal as a professional audio level.

In order to assure the best possible performance in any musical context, we advise the combination with the A-PRE preamplifier, which allows you to reach the desired sound thanks to the ROLL-OFF filter. In case of feedback problems we designed a phase switch to remove it.

For the correct positioning of the A-DYN please consult the user-manual on page 8.

The A-DYN is recommended for all acoustic instruments.
Receive an in stock email notification for this item as soon as it becomes available.
6532 - Schertler A-DYN Mic Acoustic Instrument Pickup
Adhesive Putty - Single Pack
The Schertler A-DYN Pre is a small and versatile preamp for the A-DYN pickup.
$645.00
$499.00
(Save 23%)
Denotes items that always ship for free. No shipping charges are calculated for Free Shipping items.
Software: Kryptronic eCommerce, Copyright 1999-2020 Kryptronic, Inc. Exec Time: 0.110772 Seconds Memory Usage: 4.608383 Megabytes