Phil Jones Bass 16-B Enclosure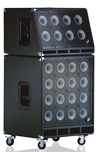 Default Manufacturer
Phil Jones Pure Sound 16-B Enclosure
Arts & Entertainment
phil-jones-pure-sound-16-b-enclosure
6900
1149.99
DjangoBooks.com
https://www.djangobooks.com/Item/phil-jones-pure-sound-16-b-enclosure
Phil Jones Bass 16-B Enclosure
Phil Jones Bass 16-B Enclosure
PHIL JONES BASS
High sound pressure levels can really be taxing on speaker cabinets. Power compression can occur when you want to really crank your rig, but it doesn't deliver the extra amount of power you need…which affects the
way you play. Not anymore.
Uncompromising power? Indeed. The 8T & 16B can handle up to 2400W but with purity, clarity and high fidelity. Slapper? You probably haven't really heard just how much energy you put on those strings. These cabinets deliver unprecedented dynamics with blinding accuracy. Startling high, powerful mids and downright righteous lows, the 8T & 16B will amplify your
sound...and your style.
Type
Full size
Bass loudspeaker
Speakon Connectors
Sensitivity
108dB/W/M
Impedance
8ohm
Frequency Response
30Hz - 15KHz
Size
24.5 x 27.5 x 19.5
Accessories
Allen key
Nylon cover
Castors x 4
Power Output
1600W
Speakers
16 x PJB PIRANHA TYPE A
Volts
Not Applicable
Image shown with 8-T (top) and 16-B (bottom)
Receive an in stock email notification for this item as soon as it becomes available.
6900 - Phil Jones Bass 16-B Enclosure
Denotes items that always ship for free. No shipping charges are calculated for Free Shipping items.
Software: Kryptronic eCommerce, Copyright 1999-2020 Kryptronic, Inc. Exec Time: 0.132824 Seconds Memory Usage: 4.377487 Megabytes