Peerless Jazz City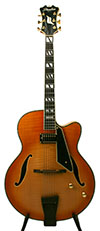 Peerless
This jazz workhorse features a 17" feedback resistant laminate body, a mounted humbucker, and a 25 1/2" scale length.
Arts & Entertainment > Hobbies & Creative Arts > Musical Instruments > String Instruments > Guitars > Acoustic Guitars
peerless-jazz-city
Jazz City
1450.00
DjangoBooks.com
https://www.djangobooks.com/Item/peerless-jazz-city
Peerless Jazz City
Peerless Jazz City
Peerless builds quality Instruments for discerning guitarists
Peerless is Korea's premiere guitar manufacturer and has been producing high quality jazz guitars since the 70s. Over the years they've built thousands of guitars for Gretsch, Gibson, Fender, Epiphone, and many others. Now a prestigious brand in their own right, Peerless offers instruments that rival the sound and playability of much costlier boutique makers at a fraction of the price.
The Jazz City is meticulously crafted from high grade materials
The Jazz City has a laminate spruce top, laminate maple back and sides, and a maple neck. It features a rosewood fingerboard, a rosewood cello style tailpiece, and a gorgeous honeyburst finish. Hardware includes a set of Grover Imperial tuners and a built-in humbucker. The overall style of the instrument is reminiscent of the more ornate designs of the legendary John D'Angelico and his protege Jimmy D'Aquisto. Embellishments include stunning block fingerboard inlays of mother of pearl and abalone, D'Aquisto style headtsock logo, and beautiful abalone body binding.
Versatile yet practical, the Jazz City is perfect for the working musician
The Jazz City is designed to produce a warm, fat jazz tone at high volumes. The laminate body is exceptionally feedback resistant and the built-in humbucker sounds woody and clear. The 17" body sits effortlessly in your lap while the 1 11/16th nut makes even the most cumbersome chord shapes feel effortless. This guitar comes setup with D'Addario 12 gauge flatwounds and fairly low, 2mm action. However, this instrument performs well with many types of setups, including traditional bebop (14 gauge flatwounds and very low action) and swing (higher action) setups.
Whether it's blazing bebop lines, fingerstyle ballads, or searing blues leads, this instrument can do it all! Come and experience the easy playability and tonal beauty of this highly versatile model yourself...
| | |
| --- | --- |
| Brand | Peerless |
| Year | 2019 |
| Model Number | Jazz City |
| Sound Hole | F Holes |
| Fret Neck | 14 Fret |
| Condition | New |
| Size | 17" |
| Scale Length | 25 1/2" |
| Nut Width | 1 11/16" |
| Body Depth | 3" |
| Top | Spruce |
| Back and Sides | Laminate Maple |
| Neck | Maple |
| Fingerboard | Rosewood |
| Binding | Abalone |
| Finish | Honeyburst |
| Tailpiece | Rosewood Cello Style |
| Tuners | Grover GH109 |
| Action | Varies |
| Strings | D'Addario ECG25 |
| Case | Hardshell |
| Pickup(s) | Humbucker |
| Truss Rod | Yes |
| Weight | 5.75 lbs |
Same thickness as the GP250 but smaller over all dimensions. Provides better control with out losing tone. Seems to work nicely on shorter scale guitars. 27.5 mm long, 23.3 mm wide, 2.5 mm thick. (two per pack).
Learn jazz rhythm guitar. Book/CD pack includes: sample songs, patterns, progressions, and excercises; essential chord voicings, inversions, and substitutions; info on time, groove and reading charts; a chord reference library; and over 50 full-demo samples on CD. Lead sheet format. 80 pp.
Denotes items that always ship for free. No shipping charges are calculated for Free Shipping items.
Software: Kryptronic eCommerce, Copyright 1999-2021 Kryptronic, Inc. Exec Time: 0.168148 Seconds Memory Usage: 4.915047 Megabytes