1950s Paul Beuscher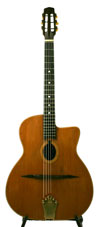 Beuscher
Great sounding instrument from one of Paris' top retailers of Gypsy guitars!
Arts & Entertainment > Hobbies & Creative Arts > Musical Instruments > String Instruments > Guitars > Acoustic Guitars
paul-beuscher-oval-hole-2
D Hole
View Offer
DjangoBooks.com
https://www.djangobooks.com/Item/paul-beuscher-oval-hole-2
1950s Paul Beuscher
1950s Paul Beuscher
This guitar is one of a number of guitars sold under "Paul Beuscher" label during the 1950s. Beuscher sold the guitars of numerous luthiers who were active in mid-century Paris, with the most famous being Favino and Castelluccia. These instruments were usually rebranded with Beucher's own label which is the case with this instrument.

This guitar features mahogany back and sides, spruce top, and a mahogany neck.

This instrument has a tone very reminiscent of Busato's guitars which are known for their clear, strong fundamentals and exuberant projection. It has a crisp, clear high end which produces stinging leads and a crunchy, tight rhythm sound that is just full of character and mojo.

This guitar has had some repair work over the years. There are several cleats on the inside securing one side crack and a back crack. Additionally, the lining on the bass side of the guitar was replaced with newer kerfed lining and it looks like two braces were either replaced or just added to the preexisting ones. The bass side of the guitar has a section where it appears that a roughly 4" area of the outer layer of the laminate was patched. It plays like a new guitar with very supple 3.2mm action and has new frets.

This instrument is a great choice for both the vintage guitar lover and the practical minded player as it has the character and vintage tone of a mature instrument while having the price and playability of a new guitar. It's tough to go wrong with this one.

This is the CASH price...add 3% (4% for International orders) if you'd like to pay with a credit card.


| | |
| --- | --- |
| Brand | Beuscher |
| Year | 1950s |
| Model Number | D Hole |
| Serial Number | None |
| Sound Hole | Oval |
| Fret Neck | 14 Fret |
| Condition | Very Good |
| Size | 15 1/2" |
| Scale Length | 675mm |
| Nut Width | 1 3/4" |
| Body Depth | 3 3/4" |
| Top | European Spruce |
| Back and Sides | Mahogany |
| Neck | Mahogany |
| Fingerboard | Ebony |
| Binding | Walnut |
| Finish | Vintage |
| Tailpiece | DB Gold |
| Tuners | Three on a plate |
| Action | 2.8mm |
| Strings | Argentine 1510 |
| Case | None |
| Pickup(s) | None |
| Truss Rod | None |
| Weight | 3.4 lbs |
The original "Wegen" Gypsy Guitar pick. 3.5mm thick, 30mm long, 26mm wide.
The original Gypsy jazz strings! Used by Django Reinhard and nearly every other Gypsy guitarist.
Vintage Django tone for Selmer/Maccaferri oval hole guitars.
Software: Kryptronic eCommerce, Copyright 1999-2019 Kryptronic, Inc. Exec Time: 0.136786 Seconds Memory Usage: 4.451149 Megabytes