1950s Paul Beuscher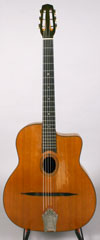 Beuscher
Premium instrument from one of Paris' top retailers of Gypsy guitars!
Arts & Entertainment > Hobbies & Creative Arts > Musical Instruments > String Instruments > Guitars > Acoustic Guitars
paul-beuscher-oval-hole
D Hole
View Offer
DjangoBooks.com
https://www.djangobooks.com/Item/paul-beuscher-oval-hole
1950s Paul Beuscher
1950s Paul Beuscher
This unusually fine guitar is one of a number of guitars sold under "Paul Beuscher" label during the 1950s. Beuscher sold the guitars of numerous luthiers who were active in mid-century Paris, with the most famous being Favino and Castelluccia. These instruments were usually rebranded with Beucher's own label which is the case with this instrument.

While many of Beuscher's guitars are easily identifiable as Favinos or Castelluccia's, this one is a little harder to pin down. First off, the workmanship and materials are of a higher caliber than that of the more commonly seen Beuscher models which tend to be more roughly built. Also, the design and workmanship don't clearly match that of any of Beuscher's usual suppliers. The headstock shape ann four brace top are very reminiscent of Favino. The bent, braceless back; solid lining; and cleated center seam are common among Castelluccia's work. Generally speaking, this instrument shows the usual characteristics of the "Sicilian school" of building (i.e. Busato, Di Mauro, etc) and was probably built by someone who was an apprentice of one of the more well known Sicilian luthiers.

Regardless of it's provenance, it's clear this instrument was one of Beuscher's flagship models as it was constructed form some of the finest materials available at that time: birdseye maple back and sides, European spruce top, and a solid maple neck. Even after half a century this guitar still looks stunning and wouldn't look at all out of place in a lineup containing some of the exquisite work of today's top luthiers.

Not surprisingly, this instrument sounds even better than it looks! As you'd expect from its Busato like body, this instrument has a tone very reminiscent of Busato's guitars which are known for their clear, strong fundamentals and exuberant projection. Perfectly balanced, this guitar produces big, fat sounding chords along with rounded, well defined lead lines that are smooth yet poignant. In essence, this is like getting one of Busato's best sounding guitars for less. It's very rare I come across a guitar with tonal refinements this one posses in the sub $10K range, even rarer in the sub $5K range. Easily the most tonal bang for the buck in the store!

This instrument has been very well taken care of over it's long life. It plays like a new guitar with very supple 3.2mm action.

This instrument is a great choice for both the vintage guitar lover and the practical minded player as it has the character and vintage tone of a mature instrument while having the price and playability of a new guitar. It's tough to go wrong with this one...

This is the CASH price...add 3% (4% for International orders) if you'd like to pay with a credit card.


| | |
| --- | --- |
| Brand | Beuscher |
| Year | 1950s |
| Model Number | D Hole |
| Serial Number | None |
| Sound Hole | Oval |
| Fret Neck | 14 Fret |
| Condition | Excellent |
| Size | 16" |
| Scale Length | 675mm |
| Nut Width | 1 3/4" |
| Body Depth | 3 3/4" |
| Top | European Spruce |
| Back and Sides | Birdseye Maple |
| Neck | Maple |
| Fingerboard | Ebony |
| Binding | Ebony |
| Finish | Vintage |
| Tailpiece | Nickel |
| Tuners | Three on a plate |
| Action | 3.2mm |
| Strings | Argentine 1510 |
| Case | Hardshell |
| Pickup(s) | None |
| Truss Rod | None |
| Weight | 3.5 lbs |
The original "Wegen" Gypsy Guitar pick. 3.5mm thick, 30mm long, 26mm wide.
The original Gypsy jazz strings! Used by Django Reinhard and nearly every other Gypsy guitarist.
Vintage Django tone for Selmer/Maccaferri oval hole guitars.
Software: Kryptronic eCommerce, Copyright 1999-2019 Kryptronic, Inc. Exec Time: 0.108499 Seconds Memory Usage: 4.459709 Megabytes