1960s Patenotte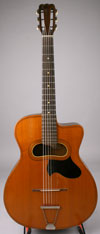 Patenotte
The classic Patenotte bean hole guitar built for the shop of the violin maker Paul Didier.
Arts & Entertainment
patenotte-bean-hole
Bean Hole
View Offer
DjangoBooks.com
https://www.djangobooks.com/Item/patenotte-bean-hole
1960s Patenotte
1960s Patenotte
This distinctive guitar features the bean shaped soundhole favored by the well known Mirecourt based Patonette workshop. Built by Louis, and later Claude, Patenotte guitars were known for their unique designs, florid embellishment, and full bodied tone. After many decades of production, Claude retired around 2010 leaving us a legacy of wonderful instruments with a sound and look like none other.

This example bears the label of Paul Didier (1908-2002) who was a respected violin maker based in nearby Metz. Nevertheless, this instrument was clearly made by Patenotte and was obviously built under contract for Didier. There is no reliable way to date this guitar. There are a few details that differ from Patenotte's more recent production, like the lack of moustache pieces and the old-style three on a plate tuners. These archaic features, along with the fact that it was built under contract for another dealer, makes it likely that it's from an earlier era, possibly circa 1960. But the actual date is anyone's guess.

Sonically this guitar is a real charmer! It posses heaps of vintage character with a tone that is open and robust. First and foremost a rhythm guitar, this little Paetnotte produces gutsy pompe with lots of low-midrange kick. It has what it takes to support even the most hard driving Gypsy bands. Leads are also pleasantly clear and focused, making this a great instrument for recreating Django's early 12 fret Maccaferri sound. Of particular note is its distinctive and appealing midrange nasalness, a quality that really comes out when playing single note lines.

This instrument was restored by the Dutch luthier Bruno B.M. Merks of Bruunari guitars in 2011. The frets are new. One top crack was cleated. There appear to be a few other top cracks close to the treble bouts but they don't appear to go all the way through. The back has two long cracks which have been cleated and are stable. The bridge appears to be original but looks to have been moved, presumably to improve intonation. The tailpiece and tuners are original.

This instrument is the perfect choice a dedicated rhythm player looking for some vintage mojo, and the unusual bean shaped soundhole makes it the ultimate Gypsy jazz fashion statement!
This is the CASH price...add 3% if you'd like to pay with a credit card. 4% for International orders.
| | |
| --- | --- |
| Brand | Patenotte |
| Year | 1960s |
| Model Number | Bean Hole |
| Serial Number | None |
| Sound Hole | Bean |
| Fret Neck | 12 Fret |
| Condition | Good |
| Size | 16" |
| Scale Length | 635mm |
| Nut Width | 1 13/16" |
| Body Depth | 4" |
| Top | Spruce |
| Back and Sides | Rosewood |
| Neck | Mahogany |
| Fingerboard | Ebony |
| Binding | None |
| Finish | Vintage |
| Tailpiece | Trapeze |
| Tuners | Three on a plate |
| Action | 2.6mm |
| Strings | Argentine 1610 |
| Case | Stagg Molded Foam |
| Pickup(s) | None |
| Truss Rod | None |
| Weight | 3.4 lbs |
The original "Wegen" Gypsy Guitar pick. 3.5mm thick, 30mm long, 26mm wide.
The original Gypsy jazz strings! Used by Django Reinhard and nearly every other Gypsy guitarist.
Vintage Django tone for Selmer/Maccaferri oval hole guitars.
Software: Kryptronic eCommerce, Copyright 1999-2020 Kryptronic, Inc. Exec Time: 0.225365 Seconds Memory Usage: 4.619118 Megabytes