2021 Mordeglia Serenata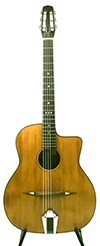 Mordeglia
Italian built guitar in the tradition of Maccaferri and Mozzani! Features a 40 year aged top and a heat bent pliage!
Arts & Entertainment
mordeglia-serenata
Serenata
View Offer
DjangoBooks.com
https://www.djangobooks.com/Item/mordeglia-serenata
2021 Mordeglia Serenata
2021 Mordeglia Serenata
The acclaimed luthier Riccardo Mordeglia hails from Ferrara, the Italian heartland of guitar making that also produced pioneering builders such as Luigi Mozzani and Mario Maccaferri. Riccarddo is a diligent student of the Emilian school of luthiers and has had the opportunity to restore original instruments constructed by Mozzani and Maccacferri. These luthiers laid the groundwork for the modern "Gypsy guitar." Riccarddo has taken it upon himself to take look back at the original design principals of these groundbreaking luthiers and adapt them to make the best possible Gypsy jazz guitar.

This unique Serenata model is a perfect example of how Riccarddo is blending the old with the new. The top is heat bent (a technique Selmer also used), a feature normally only found in high end guitars over double the price. Riccarddo uses the ancient method of heat bending which entails slowly applying heat overtime, which avoids the charring and top damage that occurs with the modern hit pipe method.The top is 40 year aged spruce, the back and sides European maple, and the neck was fashioned from mahogany with a wenge spline. The bridge fignerboard are also made wenge.

The sound of this instrument seems to speak from a bygone era, with a voice more akin to the guitars built during the 1930s Golden Era of Franco-Italian luthiery. The aged spruce works its magic, producing a mature and open tone that fills the room with the ease. The heat bent top allows for a quick, snappy attack and lots, and lots of volume. The overall tone is very balanced, with none of the overly strident, banjo like qualities that some of the more aggressive Gypsy guitars have. The bass is full, the mids are thick, and the high end is rounded and smooth.

This instrument has very easy playing 2.8mm action with a very slinky, smooth feel which makes it a joy to play!
A European guitar of this quality is unheard of at this price. Go ahead and treat yourself to this wonderful instrument that has all the old world charm you could ask for without breaking the bank!

This is the CASH price...add 3% (4% for International orders) if you'd like to pay with a credit card.

| | |
| --- | --- |
| Brand | Mordeglia |
| Year | 2021 |
| Model Number | Serenata |
| Sound Hole | Roundhole |
| Fret Neck | 14 Fret |
| Condition | New |
| Size | 15 5/8" |
| Scale Length | 660mm |
| Nut Width | 1 3/4" |
| Body Depth | 3 15/16" |
| Top | Spruce |
| Back and Sides | Maple |
| Neck | Mahogany with Wenge spline |
| Fingerboard | Wenge |
| Binding | Ebony |
| Finish | Shellac |
| Tailpiece | Nickel |
| Tuners | Three on a plate (Nickel) |
| Action | 2.8mm |
| Strings | Argentine 1610 |
| Case | None |
| Pickup(s) | None |
| Truss Rod | Yes |
| Weight | 3.9 lbs |
Software: Kryptronic eCommerce, Copyright 1999-2022 Kryptronic, Inc. Exec Time: 0.088094 Seconds Memory Usage: 4.523354 Megabytes