2004 Michael Dunn Mystery Pacific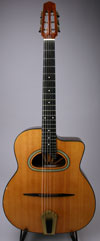 Dunn
Custom built Mystery Pacific model with a slimmer nut width, narrower body, and a tapered heel for improved comfort and playability.
Arts & Entertainment
michael-dunn-mystery-pacific-4
Mystery Pacific
View Offer
DjangoBooks.com
https://www.djangobooks.com/Item/michael-dunn-mystery-pacific-4
2004 Michael Dunn Mystery Pacific
2004 Michael Dunn Mystery Pacific
This custom ordered short scale D hole guitar was built by the illustrious Vancouver, B.C. builder Michael Dunn. This very experienced and capable luthier has a career that stretches back to the late 60s. As far as anyone knows, Michael was the first North American luthier to make Selmer inspired guitars.

While Michael's instruments are clearly based on Mario Maccaferri's original designs, they are much more than mere copies. Always unique, Michael's guitars are a breath of fresh air in the very conservative world of Selmer guitars. His willingness to experiment with materials, design, and aesthetics appeals to those looking for something different.

This beautiful Mystery Pacific model was custom built with smaller body proportions and a narrower nut width than Michael Dunn normally uses. The slender 1 3/4" nut and the petite 16" body are a boon for those looking for the classic Dunn sound in a slightly smaller, more ergonomic instrument. The short 640mm scale minimizes left hand stretches and the narrow, tapered heel further adds to the instrument's improved ergonomics.

The top is cedar, the back and sides are aged Indian rosewood, and the neck is walnut. The back is constructed of three pieces, with a beautiful Brazilian rosewood center strip down the middle. This model features a Maccaferri inspired resonator, Waverly tuners, ebony strap peg, and a compensated ebony saddle.

Michael Dunn has been one of the few contemporary luthiers to consistently produce Maccaferri style resonators in his guitars. The added reflector produces a tone which is rich and complex with a very thick midrange. It is especially nice for solo chord melody playing and rhythm.

The condition is very good with just a few very small scratches and dings. The most noticeable are two dings on the top, bass side lower bout close to the binding. There are also a few scratches on the side in the lower bass bout area and some of the binding is dinged up in places. Otherwise the guitar looks very clean.


This is the CASH price...add 3% (4% for International orders) if you'd like to pay with a credit card.


| | |
| --- | --- |
| Brand | Dunn |
| Year | 2004 |
| Model Number | Mystery Pacific |
| Serial Number | #470 |
| Sound Hole | D Hole |
| Fret Neck | 14 Fret |
| Condition | Very Good |
| Size | 16" |
| Scale Length | 640mm |
| Nut Width | 1 3/4" |
| Top | Cedar |
| Back and Sides | Indian Rosewood (Solid) |
| Neck | Walnut |
| Fingerboard | Ebony |
| Binding | Ebony |
| Finish | High Gloss |
| Tailpiece | Dunn |
| Tuners | Waverly |
| Action | 3mm |
| Strings | John Pearse 2810 LM |
| Case | Gig Bag |
| Pickup(s) | None |
| Truss Rod | Yes |
| Weight | 4.45 lbs |
Software: Kryptronic eCommerce, Copyright 1999-2020 Kryptronic, Inc. Exec Time: 0.088398 Seconds Memory Usage: 4.34375 Megabytes