2001 Michael Dunn Belleville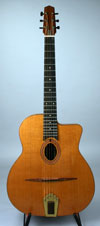 Dunn
Most popular model from a legendary Canadian luthier.
Arts & Entertainment
michael-dunn-belleville-2001
Belleville
View Offer
DjangoBooks.com
https://www.djangobooks.com/Item/michael-dunn-belleville-2001
2001 Michael Dunn Belleville
2001 Michael Dunn Belleville
Here is a wonderful long scale oval hole guitar by the illustrious Vancouver, B.C. builder Michael Dunn. This very experienced and capable luthier has a career that stretches back to the late 60s. As far as anyone knows, Michael was the first North American luthier to make Selmer inspired guitars.

While Michael's instruments are clearly based on Mario Maccaferri's original designs, they are much more than mere copies. Always unique, Michael's guitars are a breath of fresh air in the very conservative world of Selmer guitars. His willingness to experiment with materials, design, and aesthetics appeals to those looking for something different.

This beautiful Belleville model features a 670mm scale, 14 fret neck, 16" body, and a 1 7/8" nut. The top is cedar, the back and sides are Indian rosewood, and the neck is Honduran mahogany. This guitar also features walnut binding, an non-radiused ebony fingerboard, five color rosette, and "bridged" moustache pieces which reduce dampening.

This instrument is extremely resonant with an open, colorful tone and forceful, confident projection. The bass response is particularly noteworthy as it has the kind of lowend you'd expect more from a flatop guitar. The midrange is also very full which allows for very rich and satisfying chordal playing. The highend is rounded and pleasing without any of the harshness you sometimes get with less balanced Gypsy guitars. The full-range response of this guitar makes it a great choice for someone who will be using it for a variety of styles. The balanced tone this guitar posses makes it possible to play Gypsy one minute and bluegrass flatpicking the next, without either seeming out of place. A wonderful guitar for a multi-genre player.

Playability is excellent with easy playing 2.2mm action. This guitar is currently strung with phosphor bronze strings (that is what Michael Dunn ships his guitars with) but also can be strung with Argentine strings.

This instrument is in excellent condition. It shows some signs of moderate use, mostly a smattering of scratches, dings, and pickwear on the top. There is some very light fretwear. Otherwise, a very clean example of Dunn's work.

Includes DATT hardshell case.

This is the CASH price...add 3% (4% for International orders) if you'd like to pay with a credit card.


| | |
| --- | --- |
| Brand | Dunn |
| Year | 2001 |
| Model Number | Belleville |
| Serial Number | 354 |
| Sound Hole | Oval |
| Fret Neck | 14 Fret |
| Condition | Excellent |
| Size | 16" |
| Scale Length | 670mm |
| Nut Width | 1 7/8" |
| Top | Cedar |
| Back and Sides | Indian Rosewood |
| Neck | Mahogany |
| Fingerboard | Ebony |
| Binding | Walnut |
| Finish | French Polish |
| Tailpiece | Dunn Gold |
| Tuners | Sperzel |
| Action | 2.2mm |
| Strings | Phosphor Bronze |
| Case | DATT Hardshell |
| Pickup(s) | None |
| Truss Rod | Yes |
| Weight | 4.15 lbs |
Software: Kryptronic eCommerce, Copyright 1999-2020 Kryptronic, Inc. Exec Time: 0.09138 Seconds Memory Usage: 4.507362 Megabytes