2005 Collins Ritary Gaguanetti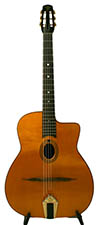 Collins
Canadian made Selmer copy from the guy who wrote the book on building them!
Arts & Entertainment
michael-collins-ritary-gaguanetti
Ritary Gaguanetti
View Offer
DjangoBooks.com
https://www.djangobooks.com/Item/michael-collins-ritary-gaguanetti
2005 Collins Ritary Gaguanetti
2005 Collins Ritary Gaguanetti
This wonderful Selmer copy was handmade by Canadian luthier Michael Collins. A graduate of the Roberto Venn school of luthiery, Collins was one of the first luthiers in North America to construct accurate copies of Selmer guitars. Collins is equally famous as both an instructor and luthier. He is currently teaching Selmer luthiery techniques at the Roberto Venn school. Collins' research on the subject is contained in his book Building a Selmer-Maccaferri Guitar as well as his instructional video.
This example of Michael's work is a Selmer copy loaded with high end features. The wood choices include a spruce top, Indian rosewood back and sides, and a walnut neck. Additionally, the guitar is outfitted with Gotoh tuners and a DR tailpiece. The interior of the body is lacquered and a bigtone pickup has been installed.

The condition of this guitar is very good. The top is very clean, with just some light scratches. The back has a few dings and one large scratch on the lower treble bout. The frets are lightly worn and still have plenty of life left in them.
This instrument possess a well balanced, clear tone with the high end snap that is favored by most contemporary Gypsy players. The mature high end and fast attack of this guitar will insure that your lead lines will project nicely with little effort. Chords are well defined and not overly bass heavy, allowing for rhythm playing that is crisp and "crunchy."

This guitar plays comfortably with very low 2.2mm action.


This is the CASH price...add 3% (4% for International orders) if you'd like to pay with a credit card.
| | |
| --- | --- |
| Brand | Collins |
| Year | 2005 |
| Model Number | Ritary Gaguanetti |
| Serial Number | 112 |
| Sound Hole | Oval |
| Fret Neck | 14 Fret |
| Condition | Very Good |
| Size | 15 7/8" |
| Scale Length | 670mm |
| Nut Width | 1 3/4" |
| Body Depth | 3 13/16" |
| Top | Spruce |
| Back and Sides | Indian Rosewood |
| Neck | Walnut |
| Fingerboard | Ebony |
| Binding | Walnut |
| Finish | High Gloss |
| Tailpiece | DR Gold |
| Tuners | Gotoh Three on a Plate |
| Action | 2.4mm |
| Strings | Argentine 1510MF |
| Case | Superior Deluxe Black |
| Pickup(s) | Bigtone |
| Truss Rod | Yes |
| Weight | 3.95 lbs |
The original "Wegen" Gypsy Guitar pick. 3.5mm thick, 30mm long, 26mm wide.
The original Gypsy jazz strings! Used by Django Reinhard and nearly every other Gypsy guitarist.
Vintage Django tone for Selmer/Maccaferri oval hole guitars.
Software: Kryptronic eCommerce, Copyright 1999-2020 Kryptronic, Inc. Exec Time: 0.129782 Seconds Memory Usage: 4.624969 Megabytes