2009 Manouche Latcho Drom OR-130 Oval Hole, Solid Indian Rosewood back and sides, 14 Fret Guitar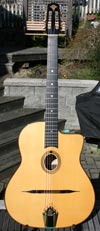 Default Manufacturer
Manouche Latcho Drom OR-101 Oval Hole, Solid Indian Rosewood back and sides, 14 Fret Guitar
Arts & Entertainment
manouche-or-130-latchodrom-2009
9931
View Offer
DjangoBooks.com
https://www.djangobooks.com/Item/manouche-or-130-latchodrom-2009
2009 Manouche Latcho Drom OR-130 Oval Hole, Solid Indian Rosewood back and sides, 14 Fret Guitar
2009 Manouche Latcho Drom OR-130 Oval Hole, Solid Indian Rosewood back and sides, 14 Fret Guitar
The Manouche Latcho Drom guitars are made in Asia and imported by Dell'Arte. These are made in a different shop then the Music Link Dell Artes. The Manouche Latcho Drom guitars are some of the best Asian made
Selmer copies we've seen. Very traditional in sound with a bright high end and a lot of bark!

This used 2009 guitar is in mint condition...it's like new without the slightest sign of use. You save nearly 500 dollars off the price of a new one!

The 10th fret marker was moved to the 9th fret.

Add 3% for credit card purchases (4% for international cards).
Software: Kryptronic eCommerce, Copyright 1999-2019 Kryptronic, Inc. Exec Time: 0.124281 Seconds Memory Usage: 4.495049 Megabytes