Lou Boustani: Gypsy Jazz Chords (Dictionary and Method) FRENCH VERSION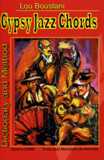 Default Manufacturer
Complete Chord book for Gypsy jazz guitar: 99 p.
Arts & Entertainment
lou-boustani-gypsy-jazz-chords
1010
19.99
DjangoBooks.com
https://www.djangobooks.com/Item/lou-boustani-gypsy-jazz-chords
Lou Boustani: Gypsy Jazz Chords (Dictionary and Method) FRENCH VERSION
Lou Boustani: Gypsy Jazz Chords (Dictionary and Method) FRENCH VERSION
Each chord is schematized in a practical way: showing the tonic's positions on the E or the A string as well as their various inversions. They are all given in C; all you need is to transpose them in order to find the desired chord. We will also give you (when applicable) the three notes chords typical to Django Reinhardt's playing style. They allow to easily play various chord progressions. We will add, when applicable, the chords played in the high-pitched strings (D, G, B and high E). These chords are most often played by soloists and occasionally by the rhythm guitar. We will also have the chance to look at the most used substitutions for seventh chords: Diminished chords and tritone substitution. You will find them described in a visual and practical way. A simple blues based example will allow us to illustrate the use of knowing the different positions (based on tonics played on the E or A strings) and their mobility. As a bonus, a handy method will be described to you in order to swiftly play various chord progressions from any given chart. It is very important to understand each chord in a hearing manner by singing each notes and identifying their specific function (Tonic, Third, Fifth, Sixth ...). This is a primordial exercise in order to train your ear for chords recognition. By analogy: a painter looks, a musician listens.
Receive an in stock email notification for this item as soon as it becomes available.
1010 - Lou Boustani: Gypsy Jazz Chords (Dictionary and Method) FRENCH VERSION
Software: Kryptronic eCommerce, Copyright 1999-2021 Kryptronic, Inc. Exec Time: 0.079913 Seconds Memory Usage: 4.541145 Megabytes