2021 Lebreton Modele Evolution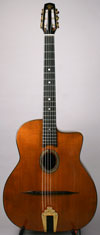 Lebreton
Powerful Selmer copy handmade in France. Features solid Indian rosewood and a balanced, yet punchy tone!
Arts & Entertainment
lebreton-model-2-evolution-4
Modele 2 Evolution
View Offer
DjangoBooks.com
https://www.djangobooks.com/Item/lebreton-model-2-evolution-4
2021 Lebreton Modele Evolution
2021 Lebreton Modele Evolution
This meticulously constructed Selmer copy was built by Jean-Noel Lebreton in Avrille, France. It is both visually and tonally a very traditional Selmer guitar, with a vintage 1930s look and the sound to back it up. However, the most astonishing thing about this instrument is the price! Rarely do you find this level of workmanship and materials at this price point. Amenities include solid Indian rosewood back and sides, Schaller Classic Deluxe tuners, Busato style neck spline (it actually has twin ebony neck splines, a unique Lebreton feature), and a traditional heat bent pliage. High end features such as these are normally only found on other luthier's flagship models the are priced well over $6000. It is almost unheard of to get workmanship and materials of this quality in this price range.

Sonically this instrument is nothing short of astounding! It posses every element required of an exquisite sounding Selmer copy: dry tone, rounded highs, warm mids, tight bass, and lots of volume. The balance of this instrument is near perfect, making it very forgiving and easy to record or amplify. Also, it is nearly free of overtone ringing of any kind, a problem that is the downfall of so many lesser guitars. Most importantly, it has that ineffable "Selmer tone" that makes anything you play on it sound instantly like Django.

If you're looking for warmth and roundness of tone than this is instrument is for you. Lebreton excels and producing instruments which are free of the brash, overly bright qualities found in many other traditional Selmer copies. Instead, his guitars produce deep, rich mids; a full, but clear bass; and rounded highs that have enough oomph for leads without being harsh.

Playability is excellent, with comfortable 3.2mm action putting it in the range preferred by most players..

This is a guitar worth buying first and asking questions later, as workmanship like this is rarely found at this price. Here's a chance to own something really special without breaking the bank.

This is the CASH price...add 3% if you'd like to pay with a credit card. Add 4% for international credit card orders.
| | |
| --- | --- |
| Brand | Lebreton |
| Year | 2021 |
| Model Number | Modele 2 Evolution |
| Serial Number | 181-42 |
| Sound Hole | Oval |
| Fret Neck | 14 Fret |
| Condition | New |
| Size | 15 15/16" |
| Scale Length | 670mm |
| Nut Width | 1 3/4" |
| Body Depth | 3 7/8" |
| Top | Spruce |
| Back and Sides | Indian Rosewood (Solid) |
| Neck | Walnut with Twin Ebony Splines |
| Fingerboard | Ebony |
| Binding | Rosewood |
| Finish | Nitrocellulose |
| Tailpiece | HSC |
| Tuners | Gallato Brass Covered |
| Action | 2.6mm |
| Strings | Argentine 1610MF |
| Case | GEWA Hardshell |
| Pickup(s) | None |
| Truss Rod | Yes |
| Weight | 4.1 lbs |
Software: Kryptronic eCommerce, Copyright 1999-2021 Kryptronic, Inc. Exec Time: 0.083384 Seconds Memory Usage: 4.513817 Megabytes