2010 Killy Nonis Busato (100th Anniversary Special)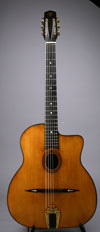 Nonis
Meticulously accurate British Busato copy made in honor of Django's 100th birthday!
Arts & Entertainment
killy-nonis-busato
Busato
View Offer
DjangoBooks.com
https://www.djangobooks.com/Item/killy-nonis-busato
2010 Killy Nonis Busato (100th Anniversary Special)
2010 Killy Nonis Busato (100th Anniversary Special)
UK based luthier Killy Nonis crafted this meticulously accurate Busato copy in honor of Django Reinhardt's 100th birthday. Killy has decades of experience building and repairing Selmer Maccaferri guitars and has had the pleasure to study and restore numerous vintage Selmers, Busatos, and other classic instruments. His extensive knowledge and skill allowed him to build one of the most accurate Busato copies I've seen. Period details include the distinctive Busato "bombe" top, replica Busato tuners, three piece neck with ebony spline, and an arched Busato style back. As you might expect, this instrument sounds like it looks: very traditional Busato tone with a tight, deep bass register and dry, clear trebles. The low end is particularly impressive...it fills the room and has the trademark "kick in the gut" Busato punch. Both the look and feel of this instrument are so close to that of a vintage Busato, you could easily be fooled into thinking this guitar was from the 30s. Killy certainly has a knack for replicas and is arguably the best in the business at building traditional style Gypsy guitars.

The wood choices are: spruce top, bubinka back and sides, and a walnut neck. The neck was made from a 150 year old walnut table!

Django owned a Busato guitar himself and was said to have composed his famous ballad Anouman with it. What better way to celebrate Django's 100th birthday than with a period correct replica of a Busato?

This guitar is in excellent condition. It shows hardly any signs of use but has been discounted $1K from the regular retail price. There is a small top crack which has been cleated and is stable.

This is the CASH price...add 3% if you'd like to pay with a credit card. Add 4% for international credit card orders.

| | |
| --- | --- |
| Brand | Nonis |
| Year | 2010 |
| Model Number | Busato |
| Serial Number | 1 |
| Sound Hole | Oval |
| Fret Neck | 14 Fret |
| Condition | Mint |
| Size | 16 1/4" |
| Scale Length | 670mm |
| Nut Width | 1 3/4" |
| Top | Spruce |
| Back and Sides | Bubinga |
| Neck | Walnut (150 Year Old) |
| Fingerboard | Ebony |
| Binding | Ebony |
| Finish | French Polish |
| Tailpiece | Selmer |
| Tuners | Busato |
| Action | 3.2mm |
| Strings | Argentine 1610MF |
| Case | Hiscox Hardshell |
| Pickup(s) | None |
| Truss Rod | Yes |
| Weight | 4.45 lbs |
Software: Kryptronic eCommerce, Copyright 1999-2020 Kryptronic, Inc. Exec Time: 0.074817 Seconds Memory Usage: 4.34684 Megabytes