2008 Jean-Pierre Favino Jazz S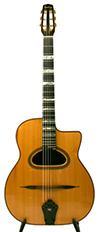 Favino
Brazilian rosewood masterpiece from the legendary maker!
Arts & Entertainment
jp-favino-1130
Jazz S
View Offer
DjangoBooks.com
https://www.djangobooks.com/Item/jp-favino-1130
2008 Jean-Pierre Favino Jazz S
2008 Jean-Pierre Favino Jazz S
This guitar represents the final culmination of over 50 years of Favino guitars. Jean-Pierre has taken the lessons of his father to improve the playability, volume, and tone of the Favino guitar. The result is the Jazz S model which faetures a smaller body than the original Favino. It is actually nearly identical to a Selmer: 15 3/4" wide, 3 3/4" deep. Scale length is 666mm which is slightly shorter then a Selmer (670mm). The back and sides are amazing Brazilian rosewood, the top is spruce and it has a maple neck. Other innovations include the solid wood tailpiece (ala Benedetto) and a fingerboard extension that goes all the way to up the 24th fret. This guitar also has traditional Favino block MOP position markers. The bridge is original and has a compensated B string for better intonation. There is a piezo pickup mounted under the top, with a jack on the lower treble bout.
The Favino model S has become very popular in recent years and is now played by the accomplished NYC rhythm player Ted Gottsegen, Shanghai based virtuoso Doug Martin, and Langley, Washington's Troy Chapman.
This guitar is in excellent condition with no cracks or structural damage. There are numerous small dings, scratches, and some minor finish checking. The frets have some slight wear.
This is the CASH price...add 3% if you'd like to pay with a credit card
| | |
| --- | --- |
| Brand | Favino |
| Year | 2008 |
| Model Number | Jazz S |
| Serial Number | 1130 |
| Sound Hole | D Hole |
| Fret Neck | 14 Fret |
| Condition | Excellent |
| Size | 15 3/4" |
| Scale Length | 666mm |
| Nut Width | 1 3/4" |
| Body Depth | 3 3/4" |
| Top | Spruce |
| Back and Sides | Brazilian Rosewood |
| Neck | Maple with Walnut Spline |
| Fingerboard | Ebony |
| Binding | Walnut |
| Finish | Nitrocellulose |
| Tailpiece | Rosewood Cello Style |
| Tuners | Schaller Three on a Plate |
| Action | 2.6mm |
| Strings | Argentine 1610 |
| Case | TKL Hardshell Brown |
| Pickup(s) | None |
| Truss Rod | Yes |
| Weight | 4.25 lbs |
Software: Kryptronic eCommerce, Copyright 1999-2021 Kryptronic, Inc. Exec Time: 0.077665 Seconds Memory Usage: 4.512932 Megabytes