2017 Jean Barault Brazilian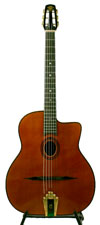 Barault
Own the guitar used by greats such as Stochelo, Bireli, Tchavolo, and Dorado!
Arts & Entertainment
jean-barault-2017
Selmer
View Offer
DjangoBooks.com
https://www.djangobooks.com/Item/jean-barault-2017
2017 Jean Barault Brazilian
2017 Jean Barault Brazilian
This beautiful guitar was built by the renowned French luthier Jean Barault. Biréli Lagrène, Tchavolo Schmitt, Dorado Schmitt, and Stochelo Rosenberg currently play and endorse Barault guitars. With an All-Star list of endorsements, there's no doubt Barault is building the sort of guitar that meets the criteria of the world's most discerning players.
This guitar includes:
Gorgeous laminate Brazilian rosewood back and sides
A real pliage (the top is heat bent just like the older Selmers!)
European spruce top
670mm scale
14 fret neck
Walnut neck
Body specs (15 15/16" body, 3 11/16" deep)
Lacquered interior (just like the vintage Selmers)
Barault Closed Brass Tuners
Barault tailpiece
The sound of this instrument is among the best Selmer copies being made today. It's no wonder Biréli and Stochelo chose to endorse Barault guitars as his instruments produce a very traditional Selmer sound but have the playability of an ultra smooth archtop.

Barault's specialty is building instruments which sound very close to the early, pre-war Selmers like Django's Selmer #503. The tops were somewhat flatter on these guitars and the result is a warmer tone with a rich bass and a lush, satisfying midrange. This instrument possess those qualities in abundance, making it the perfect instrument for someone trying to emulate Django's classic tone. Furthermore, it produces this full bodied sound without sacrificing projection, which is so often the tradeoff with lesser guitars.

Barault is one of the very few luthiers today actually making Selmer copies with a real pliage. He uses the method that Selmer did...the top is bent with a hot iron which creates a fold, or "pliage," in the top just under the bridge. 99% of Selmer copies being made today have forced tops which generally don't have the punch, volume, and quick attack that the pliage tops have.

The tone of this guitar is pure Django! It has that rich, dark, warm sound that Django's Selmer #503 was famous for. If you're looking to reproduce that classic Hot Club sound, then this is your guitar!


This is the CASH price...add 3% (4% for International orders) if you'd like to pay with a credit card.

| | |
| --- | --- |
| Brand | Barault |
| Year | 2017 |
| Model Number | Selmer |
| Sound Hole | Oval |
| Fret Neck | 14 Fret |
| Condition | New |
| Size | 15 15/16" |
| Scale Length | 670mm |
| Nut Width | 1 3/4" |
| Body Depth | 3 11/16" |
| Top | Spruce |
| Back and Sides | Brazilian Rosewood |
| Neck | Walnut |
| Fingerboard | Ebony |
| Binding | Ebony |
| Finish | Nitrocellulose |
| Tailpiece | Barault |
| Tuners | Barault Closed Tuners |
| Action | 3mm |
| Strings | Argentine 1510 |
| Case | Molded Foam |
| Pickup(s) | None |
| Truss Rod | Yes |
| Weight | 4 lbs |
Software: Kryptronic eCommerce, Copyright 1999-2023 Kryptronic, Inc. Exec Time: 0.054134 Seconds Memory Usage: 1.345543 Megabytes