1969 Jacques Favino Enrico Macias (Owned by Tchan Tchou Vidal)
Favino
Astounding example of Jacques Favino's top model, once owned by the legendary Tchan Tchou Vidal!
Arts & Entertainment
jacques-favino-enrico-macias-131
Enrico Macias
View Offer
DjangoBooks.com
https://www.djangobooks.com/Item/jacques-favino-enrico-macias-131
1969 Jacques Favino Enrico Macias (Owned by Tchan Tchou Vidal)
1969 Jacques Favino Enrico Macias (Owned by Tchan Tchou Vidal)
This is it! The highly coveted and nearly impossible to find Enrico Macias model Favino!! Serial #131, built in 1969 (Jacques Favino's "Golden Period.") And as if that wasn't exciting enough, this one was owned by the legendary Tchan Tchou Vidal:
This wonderful Favino was first owned by Tchan Tchou's Corsican rhythm guitarist Marcel Pietri. Tchan Tchou always loved the sound of Marcel's guitar and tried to buy it from him for years to no avail. Finally, Tchan Tchou said he would like to buy it not for himself, but for his son and apparently that was enough to get Marcel to finally sell it.


The Enrico Macias model was named for the famous Algerian/French singer who gained stardom via a unique style that mixes Algerian al Andalous, Flamenco, and 70's era pop.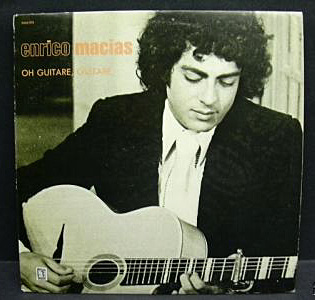 This model features maple back and sides, and a shorter 670mm Selmer scale length (most Favinos have a 675mm scale). It also has a very comfortable modern neck. This is the earliest Macias model I've seen.

A number of famous Gypsy guitarists have played maple Favinos over the years. Bireli Largene played one in his teens and used it recently on the CD It's Alright with Me . Sounds amazing! Moreno and Mondine Garcia have also used maple bodied Macias style Favinos throughout their careers.

I've had a number of the Macias model Favinos over the years and this one is clearly the best sounding one. The others were darker, and more bass heavy. This one is very clear, with the perfect balance between low, mids, and highs. It's no wonder Tchan Tchou chased this exceptional guitar for so many years. There are very few guitars that are so finely balanced and satisfying.

The hardware is all original by Salvatore Bilardi. This guitar has the extra special SB tuners with steel tuning buttons...much cooler than the standard MOT ones found on most SBs.


As you'd expect, this instrument lived the proverbial "Gypsy life" and has numerous battle scars to show for it. Tchan Tchou had a pickup installed with volume pots mounted on the lower bass bout. The holes have all been filled and the rosette looks to have been replaced as well. There are two top cracks as well as many dings, scratches, and pick wear.

As mentioned earlier, the Macias features maple back and sides. The guitar has a three piece maple neck and snazzy ivoroid binding.

This is the CASH price...add 3% if you'd like to pay with a credit card
| | |
| --- | --- |
| Brand | Favino |
| Year | 1969 |
| Model Number | Enrico Macias |
| Serial Number | 131 |
| Sound Hole | Oval |
| Fret Neck | 14 Fret |
| Condition | Good |
| Size | 16 1/2" |
| Scale Length | 670mm |
| Nut Width | 1 3/4" |
| Top | Spruce |
| Back and Sides | Maple |
| Neck | Flamed European Maple |
| Fingerboard | Ebony |
| Binding | Maple |
| Finish | High Gloss |
| Tailpiece | Nickel |
| Tuners | SB Nickel Plated |
| Action | 3.25mm |
| Strings | Argentine 1610 |
| Case | Hardshell |
| Pickup(s) | None |
| Truss Rod | None |
| Weight | 4.3lbs |
The original "Wegen" Gypsy Guitar pick. 3.5mm thick, 30mm long, 26mm wide.
The original Gypsy jazz strings! Used by Django Reinhard and nearly every other Gypsy guitarist.
Vintage Django tone for Selmer/Maccaferri oval hole guitars.
Software: Kryptronic eCommerce, Copyright 1999-2022 Kryptronic, Inc. Exec Time: 0.082963 Seconds Memory Usage: 4.636505 Megabytes