2018 Geronimo Mateos Jazz B D Hole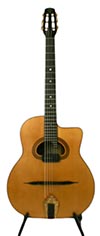 Mateos
Well balanced, versatile guitar built in Spain!
Arts & Entertainment > Hobbies & Creative Arts > Musical Instruments > String Instruments > Guitars > Acoustic Guitars
geronimo-mateos-jazz-b-d-hole-3
Jazz "B" D Hole
View Offer
DjangoBooks.com
https://www.djangobooks.com/Item/geronimo-mateos-jazz-b-d-hole-3
2018 Geronimo Mateos Jazz B D Hole
2018 Geronimo Mateos Jazz B D Hole
Geronimo Mateos has long been one of the leading Selmer Maccaferri style luthiers in Spain. Based in Madrid, his guitars are played worldwide by such notably luminaries as Angelo Debarre, Tchavolo Schmitt, and Gonzalo Bergara. Angelo Debarre played a Mateos guitar on the CDs "Come Into My Swing," "Entre Amis," and "Memoires," (Tchavolo Schmitt plays one as well on "Memoires") and Gonzalo Bergara played a Mateos built guitar on the CD Porteņa Soledad. Some of his earlier instruments were rebranded as "Gallato" but were built in the same shop as this Mateos instrument.
The Jazz B model is a Selmer copy so it has all the specs you'd expect of a classic Gypsy guitar. The comfortable 15 3/4" body is constructed of highly figured bubinga and the 670mm scale walnut neck features a modern, ergonomic profile. The top is European spruce which has been tastefully tinted to give the guitar the look of a finely aged instrument. This instrument has an oil based finish which enhances the natural beauty of the wood and allows the body to resonate freely for maximum tone and projection.

This instrument has a tone that is open, warm, and rounded with a wonderful balance that makes it a joy to play. D holes can often be overly bass heavy and dark, yet this guitar has the sort of punch you'd expect of an oval hole while still producing the big, pianistic chords and deep bass runs that you'd expect of a good D hole. Projection is excellent, with more than enough volume to fill noisy rooms and cut through at raucous campfire jams. These qualities make this guitar an excellent choice for Gypsy players who want something that's a little more versatile with the ability to perform well in traditional Gypsy settings, swing, modern jazz, and even folk or rock.
A European handmade instrument of this quality is rarely found for less than $4000 making this instrument an exceptional value. The fact that the instrument is equipped with a piezo pickup only sweetens the deal. If you're looking for great Gypsy tone for less, this is it!


This is the CASH price...add 3% (4% for International orders) if you'd like to pay with a credit card.
| | |
| --- | --- |
| Brand | Mateos |
| Year | 2018 |
| Model Number | Jazz "B" D Hole |
| Serial Number | 4981 |
| Sound Hole | D Hole |
| Fret Neck | 14 Fret |
| Condition | New |
| Size | 15 3/4" |
| Scale Length | 670mm |
| Nut Width | 1 3/4" |
| Body Depth | 3 15/16" |
| Top | Spruce |
| Back and Sides | Bubinga |
| Neck | Mahogany |
| Fingerboard | Ebony |
| Binding | Walnut/Ebony |
| Finish | Oil Based |
| Tailpiece | Mateos |
| Tuners | Gotoh 3 on a plate |
| Action | 3.2mm |
| Strings | Argentine 1510MF |
| Case | None |
| Pickup(s) | LC Magnetic |
| Truss Rod | Yes |
| Weight | 4 lbs |
The original "Wegen" Gypsy Guitar pick. 3.5mm thick, 30mm long, 26mm wide.
The original Gypsy jazz strings! Used by Django Reinhard and nearly every other Gypsy guitarist.
Vintage Django tone for Selmer/Maccaferri oval hole guitars.
Software: Kryptronic eCommerce, Copyright 1999-2020 Kryptronic, Inc. Exec Time: 0.081704 Seconds Memory Usage: 4.635109 Megabytes