1940s Gerome Modele Jazz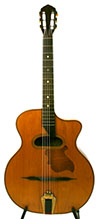 Gerome
Classic Mirecourt guitar made famous by Dorado Schmitt's cinematic performance of Kali Sara!
Arts & Entertainment
gerome-bean-hole-2
Modele Jazz
2500.00
DjangoBooks.com
https://www.djangobooks.com/Item/gerome-bean-hole-2
1940s Gerome Modele Jazz
1940s Gerome Modele Jazz
The Gerome family has been making instruments in Mirecourt, the ancient center of French luthiery, for over a century. First known for their Neapolitan mandolins, the Gerome workshop eventually grew to the point where they were producing nearly 2000 guitars and mandolins a month. Over the decades Gerome instruments gained a reputation for their excellent quality, great tone, and aesthetically beauty. By the 1990s the Gerome brothers had all retired and passed their legacy onto their apprentice, Philippe Moneret.

This wonderful example is the Jazz model that Gerome produced in the 1940s. It features a distinctive bean shaped soundhole, a short 12 fret neck, and a unusually wide lower bout. Other unique features include the original wood pickguard, an arched back.

This distinctive model has often found itself in the hands of notable Gypsy players, with the most famous being Dorado Schmitt's performance of Kali Sara in the film Latcho Drom (see video clip.)

The sound of this instrument is simply miraculous! One of the best "sleepers" I've had in quite a while. Don't be fooled by this instrument's modest looks or price tag as it has an engine that rivals some of the best. It is astonishingly loud, with the kind of projection that makes it a joy to play in a rowdy jam session or around the campfire. As you'd expect for a 12 fret guitar, it has very deep mids and a full bass response. As a result, chords sound immense and pianistic, with a great range from deep lows to crisp trebles. What you wouldn't expect is the snappy single note lines that this guitar can produce. Lead lines are pleasantly complex and open in character, yet with a nice bite which makes them easily audible in volume challenged situations.

This instrument is in very good condition.

First and foremost, this guitar is a rhythm players dream! However, it's spunky "can do" attitude makes it a great backup lead guitar as well. Hat's off to Gerome for bringing this joyous instrument into the world.


This is the CASH price...add 3% if you'd like to pay with a credit card. 4% for International orders.

| | |
| --- | --- |
| Brand | Gerome |
| Year | 1940s |
| Model Number | Modele Jazz |
| Serial Number | None |
| Sound Hole | Bean |
| Fret Neck | 12 Fret |
| Condition | Very Good |
| Size | 16 1/4" |
| Scale Length | 630mm |
| Nut Width | 1 13/16" |
| Body Depth | 3 5/16" |
| Top | Spruce |
| Back and Sides | Rosewood/Mahogany |
| Neck | Mahogany |
| Fingerboard | Rosewood |
| Binding | Beech |
| Finish | Vintage |
| Tailpiece | Saga |
| Tuners | Three on a plate |
| Action | 2.7mm |
| Strings | D'Addario EJ83M |
| Case | Hardshell |
| Pickup(s) | None |
| Truss Rod | None |
| Weight | 3.35 lbs |
The original "Wegen" Gypsy Guitar pick. 3.5mm thick, 30mm long, 26mm wide.
The original Gypsy jazz strings! Used by Django Reinhard and nearly every other Gypsy guitarist.
Vintage Django tone for Selmer/Maccaferri oval hole guitars.
Software: Kryptronic eCommerce, Copyright 1999-2020 Kryptronic, Inc. Exec Time: 0.1797 Seconds Memory Usage: 4.815498 Megabytes